Successfully added Baby Back Ribs, Full Slab to your cart
Our Head Pit Master - Tim Keegan, Recommends
Review Summary
(Based on 61 Reviews)
Overall Rating:4.9/5.0
Reviews
Little bit of love in the sauce
Jewell Gould wrote on Sep 4, 2021:
A dear family member struggling with health issues received your ribs, brisket, sauce and burnt ends recently and it added some BBQ light and love for the family. Thank you for your delicious BBQ, your ease of finding the right combination and perfect shipping across the miles. As a fan since your store opened on 71 Highway South I have enjoyed eating and sharing with family your special and consistently well prepared meals. Thanks for bringing light and love to a person in need of a KC lift.
excellent Ribs
Michael Lipari wrote on Aug 2, 2021:
Just heat the ribs and enjoy excellent Smokey ribs
Yummy BBQ
Sally Wilson wrote on Jul 12, 2021:
We love Jack Stack for the baby back ribs, beans and burnt ends.
Baby Back Ribs - well worth the wait!
Mark Davidson wrote on Jul 12, 2021:
Jack Stack has the best ribs in KC. I ordered 3 slabs of Baby Back Ribs to satisfy my KC BBQ craving since great BBQ is hard to find in Seattle. My order was suppose to arrive right before the 4th of July holiday, but FedEx dropped the ball and left my ribs all 3 day holiday weekend - I could not even find out from FedEx that it was at their site just 5 miles away. I had contacted Jack Stack customer service and left a message. An employee called me back the next morning and arranged to reship a fresh order on the first workday back from the holiday. I received them promptly and enjoyed a half rack! Well worth the wait!
Family Reunion
Amy Allen wrote on Jul 10, 2021:
I had done a previous order that was so successful I thought I'd do it again. Well... when package arrived the family have made we wait to enjoy until week when the tribe arrives. Yes they like your meats.
Surprise, AZ
Jordan Benson wrote on Jun 29, 2021:
My order was botched so it shipped a few days later then expected, then the delivery was screwed up and the dry ice had melted and food was warm to the touch. Your customer service team was top level professional and reshipped my order with few to no questions asked. Last Friday my recipient received this replacement order and the food was cold. Thank you, I really appreciate it when companies take care of their customers.
Baby back ribs
Diane Griechen wrote on Jun 28, 2021:
Tender & delicious but had to scrape off the bbq sauce as it was over sauced.
BBQ for a homesick gal from KC!
Dana First wrote on Jun 28, 2021:
I cannot thank Jack's Stack ENOUGH for offering their goods to be shipped!!!!! Great customer service, Packed with care, I live in the desert, so they packed more dry ice to keep it cold in the triple digit temps out here, and tastes like I am home in KC!!!!!!
Baby Back Ribs - Full slab
James Christiansen wrote on Jun 28, 2021:
I moved to Georgia where the BBQ I used to get back home is really missed. For Father's Day, I splurged and had a full slab and sides shipped. I received 2 days later, on-time. Boy were they great! Had the burnt ends, cheesy corn and baked beans for good measure.
Excelsior
Henry Rosado wrote on Jun 21, 2021:
Great
Oh Baby!!!
Russel Wayne Carty wrote on Jun 21, 2021:
If you've never had Jack Stack "BABY BACK RIBS, FULL SLAB" you haven't had great barbecue. The quality never changes, which means the best is always delivered. Speaking of delivery, Jack Stack ships immediately and Fedex makes sure you receive your order still frozen just like it left the company. I don't live in the KC area any more, but Jack Stack never fails me. The only thing missing is the great service and restaurant ambience. Bon appetit!
Delicious
Joseph wrote on Jun 20, 2021:
Tender and full of flavor.
What a treat!
Karen T Trolller wrote on Jun 19, 2021:
No one does BBQ like Jack Stack. I live in Illinois and will be ordering these on a regular basis!
Best ribs
Amy Allen wrote on Jun 13, 2021:
Outstanding
Great ribs
Harrison Yee wrote on Jun 7, 2021:
Everyone enjoyed the ribs, especially the sauce.
Ribs
Dave Singleton wrote on Jun 7, 2021:
Very tender
Always Awesome!
Donna wrote on May 30, 2021:
We have been getting Jack Stack BBQ shipped to NJ since the beginning of the pandemic. We ate there when we were in KC a few years back. It is always delicious and our family and friends are excited when we serve it.
Great ribs
Connie Novak wrote on May 30, 2021:
The ribs were spectacular! You never disappoint!
The best!
Leslie Moyer wrote on May 24, 2021:
We LOVE the baby back ribs. Tender and delicious and we plan to never run out of them!!
Reminded Me Of My Visit To Your Restaurant
Peter Lovett wrote on Apr 26, 2021:
Quick and safe shipping, arrived still frozen, highly recommend this restaurant BBQ and will order from them again and plan on visiting them in Kansas City whenever I can. I and my guests loved the slab of ribs. Thank you A+++++++++++.
Ribs
James openshaw wrote on Apr 12, 2021:
I'll get them again they were delicious
Perfect
Andrea wrote on Mar 22, 2021:
Came still frozen and was perfectly ready to eat the next night for supper
Great Ribs
Lelia Allen wrote on Mar 15, 2021:
These ribs were tender and juicy. There was little or no fat. I am not a big fans of ribs, but these are exceptional!
Barbeque Craving!
David Oury wrote on Mar 14, 2021:
We love Jack Stack's! We live in Wisconsin but get to KC often and eat with you all the time. Still we ship to our friends and ourselves. Can't get enough. Baby back ribs are # 1. Would prefer your other sauces v. the tangy in your home delivery version. Go National...best barbecue ever!
Best ever
Judi britton wrote on Mar 12, 2021:
Wonderful
Baby back ribs
Marsha Milhoan wrote on Mar 8, 2021:
Absolutely fabulous. Moist. Meat just fell off the bones
Bbq ribs
Shamus Misek wrote on Mar 7, 2021:
They were fabulous as always!!
Absolutely delicious
Wiliam wrote on Feb 22, 2021:
These ribs are so tender!One just wants to eat them all at one sitting!!
yummy ribs
Johanna Vogel wrote on Feb 20, 2021:
These baby backs are easy to make and very tender. Great flavor and fillling.
Excellent
Barbara Standard wrote on Feb 20, 2021:
Very good would buy again
Baby Back Ribs
Michael Coffey wrote on Feb 14, 2021:
I would order again
Juicy, tender, meaty!
Laura Swafford wrote on Feb 1, 2021:
These arrive exactly on time! The excellent quality and taste is just like you get when seated at Jack Stack restaurant! Couldn't be any better!!
Fantastic!!!!
Laura wrote on Jan 3, 2021:
My sister got us a slab of ribs with the cheesy corn and triple chocolate brownie for Christmas. We enjoyed it on New Year's Eve. It was fantastic! Jack Stack is great gift for anyone on your list.
Customer service matches the quality of the product!
Christopher wrote on Oct 26, 2020:
Living in Chicago for the past 30 years, the food I miss more than any other from my childhood is Kansas City BBQ. Jack Stack allows us to have a little of our hometown here in the big city. We encountered a small problem with our last order, and it was rectified immediately. Great service, communication, and product!
Best Ribs Ever
Tom Lattof wrote on Sep 13, 2020:
These are the best ribs I have ever eaten and I am a rib guy. Beat them all hands down. Fall of the bone and melt in your mouth.
Smokey Baby Back Bonanza delicious!
Albin Johnson wrote on Jul 12, 2020:
Rich Smokey flavor fall off the bone done I was pleasantly surprised to receive my orders still frozen, I'll wait for the shipping specials for my next order and stock up.
RIBS
VERONIA SPENCER wrote on Jul 12, 2020:
I ACTUALLY ORDERED RIBS WITHOUT SAUCE BUT RECEIVED RIBS WITH SAUCE THEY WERE STILL FOUND TENDER AND DELICIOUS.....WOULD ORDER AGAIN.....WITHOUT SAUCE...
Can't beat 'em!
Anadel Miller wrote on Jul 7, 2020:
These are so good and so convenient, I just keep coming back for more. Can't beat 'em.
Delicious
Melissa wrote on Jul 6, 2020:
Very satisfied!!! Everything was delicious, delivery was punctual and everyone was happy ! Will order again!
Thick & Meaty
Shelly Kearney wrote on Jun 29, 2020:
They looked so good, thick meaty baby back ribs that fell off the bone. I ordered ribs with sauce instead of the dry rub (my mistake) so I was unable to try :( but my family loved them!!
KC BBQ Lover
PATRICIA ELIZABETH FRALEY wrote on Jun 29, 2020:
The ribs were meaty, tender, and the sauce was a little spicy - really GREAT!
Best Barbecue
Tina Webster wrote on Jun 28, 2020:
My Mother in law lives in Kansas City is when we come to town we go eat at your restaurant and let me tell you I think your ribs are the best I love the corn everything is so so good I send my Father your barbecue and he loved it he's elderly so he doesn't get out much and he said it's such a treat when He receives your barbecue . Thank You Sincerely Tina
Awesome ribs
Marsha Milhoan wrote on Jun 23, 2020:
Absolutely fabulous
Great
M J Elwood wrote on Jun 22, 2020:
The best ribs ever. Visited the restaurant several years ago on a trip and fell in love with the flavor and quality.
Awesome
Paula White wrote on Jun 22, 2020:
Absolutely wonderful
Baby Back Ribs
Peter A Brusca wrote on Jun 22, 2020:
Meaty and cooked well. Sauced perfectly
Great!! One caveat
Robert E Pitts wrote on Jun 21, 2020:
Way too much sauce on these ribs. I removed as much of the sauce as I could and then fix them according to the directions and they were amazing with a great bark on the outside.
Best ribs
Andrew kuehl wrote on Jun 15, 2020:
We love the ribs. Service is great. Won't buy any other ribs.
Simply Delicious
Jim wrote on May 31, 2020:
Ordered the ribs for my son's birthday. Didn't disappoint at all. Just followed the heating instructions and they were perfect.
A gift I know they love!
Mary Altman wrote on May 30, 2020:
I've sent three rib packages this month - one as a birthday gift to a friend and two as client gifts. The raves were loud and clear! All three said they were the best they'd ever had even in restaurants. I love being able to give with confidence!
Good product
James Yoder wrote on May 25, 2020:
I have ordered ribs twice in one month. I am sorry that you do not include a bottle of sauce anymore with the orders. I grew up in KC . Your product is great.
Best ribs we've had
Sara Reynolds wrote on May 25, 2020:
I've been to Dallas and Nashville and eaten at the beat bbq's those cities had to offer. Haven't had the privilege to go to KC yet (go Chiefs!) and yours were the best ribs. I say that because I really don't care for ribs and I was cleaning to the bone on these. Excellent food!
Best babyback ribs ever!
Lelia Allen wrote on May 24, 2020:
The ribs arrived in air tight packaging and preserved with ice! When I warmed and served them, they tasted as if they were cooked for the first time - flavorful and tender. My friends and family were thrilled eating these ribs. I do wish that the babybacks could be ordered with sauce.
Baby back ribs
Sarah ONeil wrote on Apr 6, 2020:
Hi!! We are waiting to enjoy our meal for my husband's birthday on 5-18-2020. But I'm positive the meal will be awesome as usual!!!!!
Ribs
Big Poppa wrote on Sep 22, 2019:
I received my ribs in the mail and they were delicious.
The best BBQ Ever
Robert Robinson wrote on Jul 13, 2019:
Always satisfied with Jackstacks BBQ. Especially love the Pit Beans!!
Yum
Jo Ann Strosnider wrote on Jun 30, 2019:
Jack Stack never fails to provide the best ribs.
Yummy
Debbie Morris wrote on Jun 25, 2019:
Yummy
The perfect Fathers Day Gift
Phil Hahn wrote on Jun 24, 2019:
I ordered the baby back ribs and Dad loved them(Mom too as all she had to do was warm them up and dinner was ready). Dad said they were the best gift he got.
Ribs
Phil Cochran wrote on May 7, 2019:
Sent ribs to NYC and was told they were excellent, juicy and tasty. Be aware that cut off for shipping same day is 1:00.
Best ribs
Karen C. wrote on Jul 20, 2013:
The baby back ribs are meaty and tender.
Customers Who Ordered Baby Back Ribs, Full Slab Also Enjoy...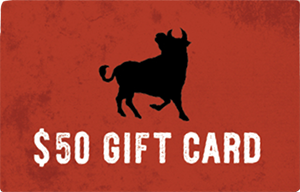 THE PERFECT GIFT FOR ANYONE!
Redeemable at the restaurants, online orders, and catering orders.