Successfully added Hickory BBQ Wings to your cart
Our Head Pit Master - Tim Keegan, Recommends
Review Summary
(Based on 22 Reviews)
Overall Rating:4.8/5.0
Reviews
Perfect party wings
Chris Dalton wrote on Sep 4, 2021:
The wings had just the right amount of heat and heated up as if fresh from the kitchen. Another superb JackStack offering!
Customer
Robert E Root wrote on Jun 29, 2021:
Delicious
Customer
Jean wrote on May 12, 2021:
The Wings were DELICIOUS as always. Jack Stack BBQ has by far the ABSOLUTE BEST wings I've ever had anywhere in the US!!
Delicious
Dan wrote on Mar 14, 2021:
Wings were excellent. Tender with nice seasoning and heat. Should have got more.
First time tried.....great!!!!!
Toshasmom wrote on Mar 9, 2021:
First time we tried the wings and they are delicious! They have a bit of a kick and are juicy and tender. Will buy again for sure!
Get the Wings
Kelly Stevens wrote on Feb 22, 2021:
I ordered 2lbs of the hickory chicken wings for my boyfriend for Valentines Day. The package was delayed (due to snow) but showed up perfectly packaged. We cooked the wings for 20 mins at 400* (5 mins longer than directions) because we like the skin a bit dark and crispy. The wings were of great quality and the hickory smoke was full but not overpowering. I would definitely order these again. They are pricey but your man is worth it!
Wings
Denice Heuer wrote on Feb 22, 2021:
Good Morning, While I did not get to taste as I sent for a gift to my BFF who is dying very quickly and she loves wings, she said they were absolutely amazing! I thank you so much as we use to be able to cook and experiment with our own, but no longer now. Your food also came very highly recommended from another good friend of mine who orders lots from you all! Hope to try myself one day.. Thank you!
great wings
Nancy Daley wrote on Feb 21, 2021:
Different than any wings I have had Fantastic quality of meat and fantastic taste I would order again in a heartbeat
Best Choice in BBQ
laurie anne dillon wrote on Feb 14, 2021:
We all totally enjoyed these wings. Great flavor cold or hot. Thank you.
Best Wings
Ardeth Rosengarten wrote on Jan 9, 2021:
Outstanding wings. So flavorful and meaty. This is a repeat order.
Great wings
Roxana Easley wrote on Jan 2, 2021:
My parents enoyed the wings, especially my mom! Wings are her favorite!
Wonderful
Susan Wilson wrote on Dec 14, 2020:
The BBQ Wings are wonderful, can't go wrong!
Excellent Wings!
Valerie Dahl wrote on Dec 4, 2020:
Everything about our order was excellent. The delivery, the packaging, the product, and the deliciousness!
BBQ WINGS
VERONIA SPENCER wrote on Jul 12, 2020:
GOOD....DIDNT GET SMOKE FLAVOR I WAS LOOKING FOR BUT WOUID ORDER AGAIN WITHOUT HESITATION.....
Best ever
Jonel Jackson wrote on Jul 12, 2020:
These wings are meaty and flavorful. They put the wing chain stores to shame.
Just not our cup of tea
Robert E Pitts wrote on Jun 21, 2020:
For us the seasoning had way too much garlic flavor. The wings themselves were great but the seasoning just did not agree with our taste.
Best Wings Ever!
Lelia Allen wrote on May 24, 2020:
These are the best wings that I have ever tasted. The flavor, a mix of smoking and a mild spicy seasoning is irresistible!
Excellent!
Neda Spasevski wrote on Apr 27, 2020:
The Hickory Barbecue Wings were an excellent addition to the Freight House package. The ground shipping delivery was very timely, as I did not expect they will get there in 2 days. My boys in VA loved them! Will order again soon!
So good
Leslee Price wrote on Apr 6, 2020:
Wonderful taste. Meaty wings love them.
Someone Knows What They Are Doing
Charles Whitty wrote on Jan 9, 2020:
My goodness, these wings tasted awesome!
BBQ WINGS
Tymecka Smith wrote on Nov 19, 2018:
They were amazing just like if I had them in the restaurant. I can't wait to get more.
Best wings ever!
Cher wrote on May 1, 2017:
First, I never order wings, ever! They never appealed to me whatsoever. However , having been armed with a $200 gift card and free afternoon in Kansas City, I sat myself down in the Freight House Jack Stacks and proceeded to sample my way through the menu. I tasted almost everything- 5 kinds or ribs, all the sides, brisket, chicken, soup, pork & all burnt end concoctions and found the wings and the smoked chicken chowder to be incredible! And this coming from a person who normally hates wings! Since then, I order wings via website and only wish the soup was also available. For that, I have to make an annual pilgrimage to KC! Well worth the plane fare from Florida!
Customers Who Ordered Hickory BBQ Wings Also Enjoy...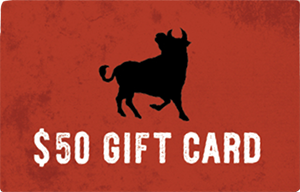 THE PERFECT GIFT FOR ANYONE!
Redeemable at the restaurants, online orders, and catering orders.