Successfully added Pork Spare Ribs, Sauced 1/2 Slab to your cart
Our Head Pit Master - Tim Keegan, Recommends
Review Summary
(Based on 11 Reviews)
Overall Rating:4.9/5.0
Reviews
Excellent Taste!
Laura K Perkinson wrote on Jul 12, 2021:
This is the 2nd batch of Ribs I have ordered. They are so good, you can't stop eating them even if your full! All we did was turn on our grill throw these on for 5 minutes each side and Wow!! really really good!
So darn good
Laura K Perkinson wrote on Jun 24, 2021:
I had my sister and her husband over to share the Ribs ( 2 packages) we all ate our fill and still had 2 ribs left over. These ribs are truly so darn good the first bite you say Hmmm and that taste stays with you every bite. I am just now buying more cause really they are VERY good.
Great Food
Rebecca Lutzer wrote on Jun 2, 2021:
The Pork Spare Ribs were delicious!
bbq ribs
john gslle wrote on May 25, 2021:
really good
Solid
Ryan walter wrote on May 15, 2021:
Great product at a great price point. JSB never disappoints either in-person or by being shipped to Michigan
Good Stuff
Chuk Williams wrote on Jan 17, 2021:
Everything was good
Ribs
Denise Ackerman wrote on Oct 5, 2020:
Excellent ribs. A little clean up job necessary afterwards from the grease but we enjoyed them. Look forward to trying the brisket, too. All arrived frozen solid so no problem with freshness!
Pleased As Punch
Jacqueline Nelson wrote on Aug 30, 2020:
Love, love, love your Pork Spare Ribs. I have ordered so many of these for my own household. In addition, I have gifted a few orders of these ribs to friends and family which came in very handy during these COVID TIMES. The feedback I have received from the recipients of my gift orders was simply " Sheer Enjoyment", Ribs are extremely meaty, well seasoned and flavorful, correct amount of sauce, very filling. Always tried to make my own Pork Spare Ribs in the past, until I discovered Jack Stack's. Why go through all the hassle of making my own, when I can simply order from Jack Stack's. Great Value for Money!! Just wish I lived close to one of their restaurants! In the meantime, their shipping process is great and extremely efficient. I am totally thrilled with everything I have ordered from them.
California Barbecue Lover
Robert Johnson wrote on Jul 19, 2020:
The best ribs in the world.
Meaty, Tender, & Unbelievable!
D. Haggart wrote on Jun 29, 2020:
I love Ribs-- I began cooking ribs at 10 yrs with my dad always looking for the perfect rib- meaty, tender, smoky and & the perfect sauce. I've eaten ribs throughout the Southeast. Lived in Virginia & Texas eating their contributions to sauced BBQ ribs. Then my husband and I were in Kansas City and asked for directions to Jack Stack because we had heard Major League Baseball announcers say as the place to go for ribs. We went and it was! We started with a Sampler Platter, then ordered more ribs and brisket. We left with a take out bag of ribs, brisket, beans & rolls. I have tried to duplicate the ribs & sauce and can't (& I've been trying to achieve the perfect ribs for 40 years). Jack Stack is what my dad and I were trying to achieve. Order them; they come on time, in an insulated box and cold packed. They've always arrived frozen, and we have never been disappointed. You won't be either.
Ribs
Sherry Felz wrote on Feb 24, 2020:
Jack Stack does not disappoint!
Customers Who Ordered Pork Spare Ribs, Sauced 1/2 Slab Also Enjoy...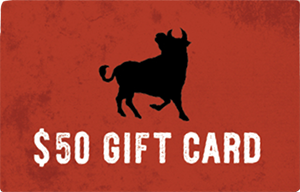 THE PERFECT GIFT FOR ANYONE!
Redeemable at the restaurants, online orders, and catering orders.