Successfully added Pork Spare Ribs, Unsauced Slab to your cart
Our Head Pit Master - Tim Keegan, Recommends
Review Summary
(Based on 37 Reviews)
Overall Rating:5/5.0
Reviews
use these for so many dishes, seriously!!!!!!!!!!
terry peek wrote on Aug 4, 2021:
we use these in 'dirty rice' and red beans, or kidney beans, can't get enough of these babies, COLD BEER REQUIRED. Be sure to order them WITHOUT SAUCE, and add your favorite hot pepper/vinegar sauce to the mix when bowling/plating. thanks jack
Excellent ribs
nancy martin wrote on Jul 6, 2021:
Fantastic ribs---always a treat. The meat is moist and flavorful----a perfect 10 on a rating scale of 1-10.
Happy Fathers Day
Beth Goff wrote on Jun 21, 2021:
Your ribs and sauce made for one happy father (and family) yesterday. It amazes us every time how perfect they come out and the sauce is always fantastic. Thank You!
Ribs
Dayton Covert wrote on Jun 19, 2021:
Enjoyed our order . Second time we have ordered the pork ribs, unsauced.
Unsauced Spare Ribs
Sally Johnston wrote on Jun 14, 2021:
Great ribs - I like them unsauced so I can put just the right amount of sauce on them.
ribs
Michael Green wrote on May 4, 2021:
Your BBQ ribs unsauced are excellent
Great, as expected.
Charles Murrieta wrote on Apr 19, 2021:
Package arrived on time and contents were frozen solid. Instructions for warming were easy to understand. The ribs turned out as expected: great flavor and tenderness. Thanks!
Spare Ribs
Roger Lowry wrote on Feb 21, 2021:
Granddaughter loves these.
pork spare ribs
Dayton Covert wrote on Jan 31, 2021:
I liked the pork ribs. I like them without sauce on them. Can put on if I want to. Enjoyed the ribs.
Ate all in one sitting
Linda D Sakai wrote on Jan 24, 2021:
Delicious ribs. We added our own sauce. A treat and definitely for special occasions.
Excellent Quality and Service
Gerri wrote on Jan 2, 2021:
As usual, the ribs were great and the directions for serving were spot on! They arrived on the promised date which given the chaos of this year's shipping was much appreciated! Thanks Jack Stack!
Meaty ribs
bonni haslem wrote on Dec 28, 2020:
These ribs are so good that my kids like them. Meaty and tasty!
Wonderful Gift!
L Moon wrote on Dec 28, 2020:
We sent this across the country to family. They loved it! All items arrived cold & in good condition. They've eaten the unsauced ribs and the carrot cake. They both were a hit! This is an easy to give and well received gift.
The best!
Joanne Holste wrote on Dec 28, 2020:
Well received as a gift! They loved it!
Good slabs
Priscilla Ingram wrote on Dec 25, 2020:
Never disappoints. I enjoy them sauced or without-gives a delicious smoked flavor to any dish or by themselves. I will keep ordering ribs from them.
Ribs
Shawn A wrote on Dec 5, 2020:
Ribs were cooked to perfection. My first time eating frozen, cooked ribs. They are damn good!!!!
Superb!
Pamela Boysen wrote on Nov 30, 2020:
We moved away and ordered these for delivery to California. They were amazing just like we remembered. Now we can have our bbq fix anytime.
Mouth Watering
Norm wrote on Oct 1, 2020:
Having frequently dined at Jack Stack in Overland Park, KS, we now live in PA. Tasting the ribs and baked beans brought back so many delicious memories!! What an outstanding meal!! I highly recommend Jack Stack!!
Best ribs ever!
TJ wrote on Sep 6, 2020:
Don't live in KC anymore, so there are no in-person visits now, but am so glad that we can order online! These are fabulous ribs, fall off the bone tender, couldn't ask for any better.
Pork Spare Ribs
Arvel McIntire wrote on Jul 13, 2020:
Very good. Have ordered before.
Drool-worthy
bonni haslem wrote on Jul 1, 2020:
These ribs are so good they don't even need sauce. Delicious!
Rib review
Collette Kent wrote on Jun 29, 2020:
Ribs were delivered on time (despite FEDEX ETA which was 4 days late). Ribs exceeded expectations from the last time we ordered!
Excellent
Robert E Pitts wrote on Jun 21, 2020:
With a little of our favorite sauce these were excellent.
baby back ribs x 2 slabs and pork aaaspare ribs, unsauced
Alan Biller wrote on Jun 8, 2020:
Both excellent as expected.
Jack Stack Sauce Makes the Difference
M Hosokawa wrote on Jun 6, 2020:
I am not a rib specialist. Jack Stack ribs are very meaty and have the right touch of smoke. I order unsauced. The big difference is the Jack Stack sauce with just the right amount of zest to bring your taste buds alive. I prefers unsauced so I can dip my ribs in the sauce again and again.
Too Soon
Bill Sikora wrote on Mar 15, 2020:
It's too soon for a review of my recent purchase, however, my two sons were blown away by their delicious Christmas presents. Neither of them had enjoyed Jack Stack BBQ and have become immediate lovers of the entire package of your products. Thanks for consistent quality and deliciousness.
reviewed
Marita Faulwell wrote on Dec 30, 2019:
I gave these as a Christmas gift to my physical trainers. They loved them and have already ordered more on their own.
Ribs
MICHAEL BUTCHER wrote on Dec 23, 2019:
Very tasty
Great ribs!
William garner wrote on Oct 6, 2019:
My wife isn't fond of bar-be-que but she loves these. Great meaty ribs with great taste. Just warm them and rip the meat from the bone ( actually it falls off). Keep up the good work.
These are consistently the best ribs ever!
Philip Davis wrote on Jul 13, 2019:
We've been a Jack stack fan for a long time. Every order we place we have to include ribs. They are consistently flavorful & meaty. You can't go wrong with these ribs!
Best Ribs Ever!!!
Denise Ferguson wrote on Jul 7, 2019:
We served the ribs for a 4th of July weekend back yard BBQ and they were the hit of the party! Everyone loved them. I sliced them before baking and they were ready to serve right out of the oven. Thanks Jack Stack for making this so easy!!
delicious
ira foss wrote on May 27, 2019:
A package of Jack Stack's ribs were given as a present, eaten and enjoyed. Enjoyed so much I've reordered to enjoy once again! Keep up the good work.
Ribs Galore
Byron Long wrote on May 6, 2019:
I purchased a rib package serveral weeks before the deliver date for my daughter at college for a pre-finals meal. They arrived exactly on the date I chose and were awesome. Thank you Jack Stack for the great food and delivery options.
Fabulous ribs!!!
Sharon Westby wrote on Feb 18, 2019:
We love the ribs, the beans and the cheesy potatoes! Our daughter sent us a gift from Jack's last year; we have been ordering ribs and side dishes ever since! hard to beat the quality, taste and quick delivery!
Jack Stack Christmas in PA
Larry Litle wrote on Jan 1, 2019:
Food arrived on same day promised. All tasted fantastic. Thank you
Wonderful surprise
Judith Ranallo wrote on Dec 16, 2018:
This was delicious. The ribs reheated well after thawing. I enjoyed this treat.
Excellent as always!
J reiswig wrote on Nov 26, 2018:
They ship with dry ice and a cooler so your meat stays fresh! Food is delicious, we order a few times a year and always have fresh delicious foods! BBQ hickory beans are the best!!
Customers Who Ordered Pork Spare Ribs, Unsauced Slab Also Enjoy...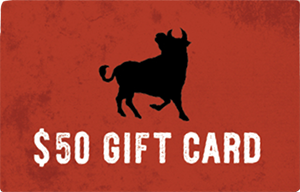 THE PERFECT GIFT FOR ANYONE!
Redeemable at the restaurants, online orders, and catering orders.