Successfully added Sliced Beef Brisket to your cart
Our Head Pit Master - Tim Keegan, Recommends
Review Summary
(Based on 54 Reviews)
Overall Rating:4.9/5.0
Reviews
Best Brisket in the land
Chris Dalton wrote on Sep 4, 2021:
The JackStack brisket is hands down the finest in the country. Even flash frozen, once warmed up it tastes fresh out of the kitchen. A staple for my mail orders!
Great Food
joe - diane mcdevitt wrote on Aug 21, 2021:
Classic! tender, great flavor, very east to prepare
Beef Brisket
Angelia Denise Mason wrote on Aug 16, 2021:
This was a gift for a friend who had surgery. I haven't ever ordered from this Co. before but my friend stated it's was delicious and loved the sauce! She couldn't say enough good things about it. It was hard to find someone who had them in stock, but this Co. was absolutely wonderful, it was so easy. I will certainly be using them again in the future.
Excellent Brisket
Michael Lipari wrote on Aug 2, 2021:
Just heat up and enjoy moist Smoky Brisket
Great food
Carol Frevert wrote on Jul 17, 2021:
I sent brisket and beans to my sister and brother in law after he had a knee replacement and was recovering. They absolutely loved it and said the brisket was so tender and tasty.
Gotta try the Brisket
Daniel R Sealock wrote on Jul 9, 2021:
I cannot remember a time in my many years of eating barbecue when I have had better brisket. It was as tender and tasteful as it could be. The best indicator was my wife trying it and loving it. She is not a big meat eater but definitely now a fan of the brisket. We will be ordering more and not just for holidays.
Birthday Gift
Bill Thrower wrote on Jun 28, 2021:
The brisket was a big hit. My Brother-in-law didn't share the Crown Ribs. Thanks for delivering a wonderful meal. You made me a hero.
Better Than Filet Mignon
Russel Wayne Carty wrote on Jun 21, 2021:
I could live with Jack Stack Sliced Beef Brisket for every meal and die a happy man. The brisket is so tender, smoky, and lean you would believe Jack Stack passes filet mignon off as brisket. Thank goodness they ship immediately and Fedex treats the delivery as if it were organs for transplant. You will not be disappointed.
Excellent!
Diana Taylor wrote on May 22, 2021:
Please share superior service to the gentleman in customer service who took excellent care of my order!
Consumer
Mike Zgainer wrote on Apr 13, 2021:
Very good
Best Brisket Ever!
Emily Lawrence wrote on Mar 28, 2021:
This brisket is tender, flavorful, and so easy to prepare. The whole family loves it!
Simply OUTSTANDING
William J Morrison wrote on Mar 21, 2021:
......Simply OUTSTANDING- No need to say anymore.
Our Valentine's Day Sale Order
STEVEN PETITO wrote on Feb 24, 2021:
Good Stuff!
The best!
LDS wrote on Feb 22, 2021:
I lived in Texas and never really cared for any brisket I tried. Jack Stack is wonderful because the sauce absolutely makes it!
Great Brisket
Ken wrote on Feb 22, 2021:
Easily the best tasting brisket we've ever had.
Good Childhood memories
Mark Luetjen wrote on Feb 15, 2021:
Ordered 2 packages of the brisket and it was "melt-in-your-mouth" good. For 6 people the first serving was straight brisket. The second serving was as brisket sandwiches. It even heated and reheated very well. In the future I will order extras to store away for a rainy day
Best BBQ!
Ross Spinks wrote on Feb 14, 2021:
Ordered a number of times from here and it has always been amazing!!
Beef Brisket is their best item on the menu
Donna Koehnen wrote on Feb 14, 2021:
I LOVE their beef brisket - I ordered it the first time when I was actually in town visiting and had dinner at their restaurant. Then moved to Florida and it is so good, that I order it and have it shipped to me - thaw it out, warm it up and it tastes just like they made it themselves and carried it to my table!
So darn good!
Rebecca Darling wrote on Feb 7, 2021:
I love the brisket - no fat, so tender and so good!
Sliced Brisket
D Jefferson wrote on Jan 9, 2021:
Excellent, tender with very little fat
amazing sliced brisket
Bonnie wrote on Jan 1, 2021:
Our family wanted something special to eat for our holiday meal without putting much effort in, and this brisket was perfect! I have eaten at the JS restaurant before and didn't believe having it shipped to me would be as good, but somehow it was! Absolutely delicious and falling apart tender. So, so good. It was packaged well, available at a great price, and arrived right on time. Great experience. Thank you Jack Stack!
Delicious
Anthony Cruz wrote on Dec 26, 2020:
delicious. plan to order more when there is free shipping
Brisket to Southern California
Walter Thompson wrote on Dec 20, 2020:
Everyone loved the brisket. All wished they had a place like Jack Stack's in southern California. Said they'd be ordering online in the future.
The Best A+
David Calcagni wrote on Dec 20, 2020:
the best A+
Best bbq Brisket in the country
Richard Dinkins wrote on Dec 7, 2020:
My wife and I grew up in Kansas City, but haven't lived there for several years. We've had bbq in many places, but always make it a point to go to Jack's Stack for brisket sandwiches whenever we go back to KC because we just can't get anything like their tender, lean brisket anywhere else. We love it now that we can order it and have it shipped to our front door in Colorado. And we do it several times a year.
Deliciously yummy
Glenda Purdie wrote on Oct 14, 2020:
Arrived on time and packed perfectly in cooler box with dry ice. Delighted with product, thanks
Really enjoyed this
Karen V wrote on Oct 4, 2020:
Got the brisket as an add-on with another order and so far, this has been the only thing I would recommend or reorder. The meat is cooked to perfection and is very tender. The sauce; however leaves a lot to be desired. I doctored it up with Bullseye sauce and it was awesome.
Brisket is divine
Nikita wrote on Sep 6, 2020:
Had some bbq shipped to my home for the first time and had never tried the beef brisket when there at the restaurant. It's so delicious along with the baby back ribs. It was a perfect combo!!!
Unbelievable
Traci Kennedy wrote on Sep 5, 2020:
This brisket is awesome! So tender, actually fork tender. The flavor is perfect and pairs very well with almost anything. Will order again!!
California Barbecue Lover
Robert Johnson wrote on Jul 19, 2020:
The best Beef Brisket ever What a sandwich!!!
Very good
Robert E Pitts wrote on Jun 21, 2020:
The brisket itself was very good but we did not care for the sauce. Would have preferred sauceless option.
Fantastic Product
Randy Swope wrote on Apr 12, 2020:
I recently purchased the 28 oz. sliced-beef BBQ brisket for a family friend. The product was a Rachel Ray endorsed product and I felt very confident with that validation. Our friend received the product within days, followed the instructions for preparation, and then consumed all of the brisket. Our friend called us and raved about the taste and quality of your product. We will return to Jack Stack BBQ for more purchases.
Amazing Brisket
Tim Rogers wrote on Mar 8, 2020:
I recently had Jack Stack barbecue shipped to my home in Gainesville, Florida for my retirement and Chiefs' victory party. It arrived frozen and the heating instructions were very easy to follow and proved accurate. My guests were stunned by how tender and flavorful the brisket was. One guest is in his 60's and loves brisket. He said he orders brisket whenever he can at barbecue restaurants. He insisted the Jack Stack brisket was some of the best he has ever had. The event was a big hit for me and my Gainesville, Florida friends.
A Filet By Another Name
Russel W Carty wrote on Sep 6, 2019:
Jack Stack brisket deserves a more elegant name. It's amazing that such a cut of beef can be made so flavorful and tender. Despite having witnessed its preparation, I believe there is something magic the guys do to produce this delicacy. I would eat it three times a day if possible, but there is something extra special about sliced beef brisket and football. Thanks for making my day great, even if the Chiefs occasionally lose.
Brisket
Joan macfarlane wrote on May 12, 2019:
Brisket was excellent. A hit at the party. Melt in your mouth
Best BBQ brisket in MO. KS. & Florida.
randall h. elam wrote on Apr 1, 2019:
Great brisket, Burnt ends,Poor Russ & Cheesy potatoes in 3 states. Onion rings are the industry standard. Worth a drive to Martin City. Great service, casual ambience & lots of folks licking their fingers. Took relatives from Fl. 6 years ago. Since then we send Jack Stack to them; and they send Key West fish dip. Floridians are snooty but always request more. Go figure.
Mmmmm Good!
Cheryl Davis wrote on Mar 9, 2019:
The brisket was tender and tasty. I ordered it to surprise my daughter in law. My son and his wife met while they were living in Kansas City The moved to the Charlotte NC area 2 yrs ago. The NC style BBQ has been disappointing for them. All of us in the family loved the brisket! We will be ordering again for sure.
Brisket
Joyce Stephens wrote on Feb 18, 2019:
Great brisket! Better than doin it yourself!
MS
PATRICIA HOPKINS wrote on Feb 18, 2019:
I SEND BBQ FROM YOU TO MY BROTHER IN LAW IN CA EVERY FEB FOR HIS BIRTHDAY. HE REPORTED THAT THE BRISKET WAS TENDER, THE RIBS WERE DELICIOUS, AND THE BEANS ARE THE BEST HE HAS EVER HAD. GREAT GIFT THAT IS PERFECT YR AFTER YR.
once again
Michael Sowry wrote on Feb 16, 2019:
I have had Jack Stack both at their original restaurant and shipped to multiple places when I go on vacation. I had it shipped to my house again for a gathering and did not disappoint. Arrived on time and was excellent as always.
Worth Losing the Bet!
Dana wrote on Feb 11, 2019:
I lost a bet over the AFC Championship game so paid up with an order of Jack Stack BBQ. This brisket went to friends in New England. They were shocked and awed and said it was the best bbq they've ever eaten. I feel the same way and am lucky that I can indulge in it any time I want.
Unbelievable Quality
Kevin Cuello wrote on Feb 11, 2019:
I lived in Kansas City for 13 years and was a regular Jack Stack customer. I have to say I was skeptical that the shipped out BBQ would be as good as the BBQ you have prepared for me when driving long distance. We followed the directions as listed on your brochure and we were absolutely blown-away at how identical to taste, juiciness, and texture the shipped BBQ was. Even more remarkable was how delicious the Burnt-Ends ordered on the side were. We are extremely satisfied and can't wait to place our next order next time we have a gathering of friends. Thank you!!
Brisket
Joan macfarlane wrote on Feb 10, 2019:
Excellent product. Will order again
Jack Stack BBQ
Peggy Quam wrote on Jan 29, 2019:
It was a gift and it was EXCELLENT!! very very delicious
Another Home Run
Russel W Carty wrote on Jan 7, 2019:
If I want to be a hero or make an event special, I bring on the Jack Stack. This time it was to celebrate my grandson's birthday. The pit beans, spare ribs, and sliced brisket were delivered exactly on time via Fedex and frozen rock solid. Cryo packing ensures there is never freezer burn or other degradation during shipping. Reheating is a breeze following thorough directions and I can't distinguish the food from restaurant fare - minus the great service and fun atmosphere. I've sampled BBQ interpretations across all regions, but never found anything to equal Jack Stack. Since I'm unapologetically biased, you may want to take that into into account while reading my review.
Meat Perfection
Doug Upshir wrote on Jan 5, 2019:
The meat was melt in your mouth delicious!!
Superb Brisket!
Gary Tritch wrote on Dec 31, 2018:
Can you say "brisket done to perfection!".
Tasty brisket
Curt Parsley wrote on Dec 29, 2018:
It was very good.
The Best BarBQ
Roy Smith wrote on Dec 22, 2018:
Jack Stack is the Best BarBQ and the meats are at the excellent level. Shipped from KC to our dinner table and loved by everyone. First class operation.
SO good!
Larry wrote on Dec 4, 2018:
Flew to KC just for Jack Stack... months later, had brisket and wings shipped to Nashville. Yes... it's THAT good!
Home Sweet Home
Russel W Carty wrote on Dec 2, 2018:
Disclaimer: I grew up on Kansas City barbecue, specifically Smokestack/Jack Stack and I'm unabashedly biased. I live distant now (Oklahoma), because of kids and grandchildren, so we can't easily enjoy the amazing cuisine and service locals do. The good news is we are able to address our Jack Stack addiction via home delivery. The following comments concern my order of November 21, 2018. I wanted to give my family a treat different from the usual Thanksgiving fare and it was a smash hit. Sliced beef brisket, baby back ribs and baked beans were delivered on time and after warming, were indistinguishable from our restaurant table experience. Our order was delivered overnight by Federal Express. Everything was frozen rock hard on ample dry ice in a nice Styrofoam cooler inside of a heavy corrugated cardboard box. The baby back ribs and sliced beef brisket were cryo packed in heavy duty wrap with generous amounts of Jack Stack original barbecue sauce. The beans were in a nice heavy duty white plastic container and could have been served directly from it. FYI, Jack Stack baked beans are caviar for barbecue lovers. I have always held that Jack Stack restaurant service and experience were superb, but the website, delivery service, and phone support are of no less quality. I used to count on the restaurant to entertain corporate clients, for family celebrations, and just a casual treat. Now, I can rely on nationwide delivery for the same experience. Thanks Jack Stack. We look forward to many more deliveries.
Beef Brisket
Marilee R Berzins wrote on Oct 22, 2018:
Always terrific and delicious.
as good as ever!
Sarah wrote on Feb 26, 2016:
I've ordered the brisket every time I've placed an order, and love it! It's so tender you don't even need a knife! The brisket, and the baked beans will continue to be my ""special events"" orders for a long time to come!
Awsome
Kim wrote on Feb 4, 2013:
The best bar b Que beef I've ever tasted
Customers Who Ordered Sliced Beef Brisket Also Enjoy...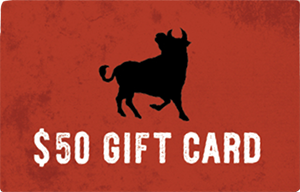 THE PERFECT GIFT FOR ANYONE!
Redeemable at the restaurants, online orders, and catering orders.