Successfully added Kansas City Favorite to your cart
Our Head Pit Master - Tim Keegan, Recommends
Review Summary
(Based on 18 Reviews)
Overall Rating:4.8/5.0
Reviews
Excellent
Kathy wrote on May 29, 2021:
Order was received on time and in good condition! Person receiving the gift said it was the best part of his birthday!
One of the best BBQ, I've every had.
Kareem Ahmenatu wrote on May 23, 2021:
I had family in from out of town and we had the Kansas City favorite for dinner. It was the best!
Delicious
Pearl B wrote on May 10, 2021:
Delivered cold , fresh , great instructions on heating . The food was delicious family enjoyed the tender meat, ribs, cheesy corn. Great meal for our Mother's Day .
Jack Stack for my Neighbor
Harv Gilchrist wrote on Feb 14, 2021:
I am a huge Chiefs fan who travels from Sacramento, CA to at least once a year until this year due to the pandemic. I discovered Jack Stack over 15 years ago and have made it a tradition to have dinner there every time I visit, either Freight House or Lee's Summit. I have wonderful neighbors and I wanted to do something nice for them, so I ordered some BBQ ribs, brisket, burnt ends and sides. They loved it as much as I do and have been raving about it for a week!
Totally Awesomesauce!
Michael A Orticari wrote on Dec 5, 2020:
I've visited the restaurant many times in the past and decided to do something different this year for Thanksgiving. Everything arrived on time. It was easy to prepare and the food was as delicious as ever. My guests loved everything, especially the famous burnt ends!
review of product
PEGGY d SHARP wrote on Oct 26, 2020:
Was delivered on time and in excellent shape . Served more than anticipated and was enjoyed by all.
Fantastic
Jeanne Barnhill wrote on Jul 26, 2020:
We sent this as a gift to friends who had moved out of town. They were thrilled , the food was delicious and there was enough for leftovers.
#1 Chief Fan
toni wrote on Feb 10, 2020:
My hubby loves the Chiefs...as in the #1 fan east of the Missouri River! I surprised him with a BBQ package for the Superbowl, and was he surprised!! He loved it! And they won!! GO CHIEFS!!
A Great Way to Celebrate the Superbowl
S. D. Timmons wrote on Feb 10, 2020:
The ribs, beans, and cheesy corn were terrific. The burnt ends were not as tender as I remember. ( They were pork burnt ends so not sure if that was the cause.)
So Very Good!
David L Carlson wrote on Oct 14, 2019:
We really enjoyed the Kansas City Favorite package. It was so good. We followed the heating instructions and really enjoyed our meal.
Great
Valissa Witmer wrote on Oct 6, 2019:
Burnt ends, cheesy corn and beans were great!
Loved It
Desiree Macke wrote on Oct 25, 2010:
The meat was AMAZING!!! Just wish there would have been more cheesy corn included.
Kansas City Favorite
wrote on Oct 25, 2010:
Sharing Kc Bbq With Family In Az
Pam Cowan wrote on Oct 23, 2010:
We have family from all over the country. When they come to visit, Jack Stack is a must stop. Due to various reasons, their visits have not been a frequent. They requested BBQ. They miss Jack Stack more then seeing their family I think! So we sent them the Kansas City Favorite package. They thought they had died and gone to heaven. It is a perfect sampling of the best of the best! I am a Rock Star now, so maybe they will come see us, of course with a stop to Jack Stack!
Great
Janet Erb wrote on Oct 23, 2010:
Fast service! Great food.
Wonderful Bbq
Ronda Hey wrote on Oct 22, 2010:
I really loved the flavor of the BBQ that was delivered to Tennessee for my brother's birthday, Jack Stack is his favorite. We would probably ship more to friends/family out of town, but the cost is a big factor.
Plenty Good With A Few Just Ok's
Rob S wrote on Oct 22, 2010:
The spare ribs were good, the beans and corn, outstanding, the sauce is great. The Burnt Ends were disappointing, I'd never eaten them before and expected something different - they were just thick slices of a bit chewy pork. I expected a thinner tastier type of thing. Just a newbie trying something out. Also ordered chicken wings and they were great and an extra slab of pre-sauced ribs which came out even better than the unsauced slab. Overall the company delivers as they said they would and I'll probably order again.
Kc Favorite
wrote on Oct 22, 2010:
I always order from Jack Stack to send to my sister and son who both live out of town and have a party with friends to share the taste of KC through Jack Stack.
Customers Who Ordered Kansas City Favorite Also Enjoy...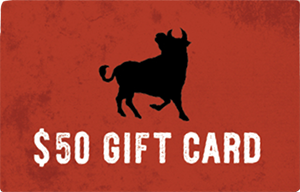 THE PERFECT GIFT FOR ANYONE!
Redeemable at the restaurants, online orders, and catering orders.