Successfully added Cheesy Corn Bake to your cart
Our Head Pit Master - Tim Keegan, Recommends
Review Summary
(Based on 34 Reviews)
Overall Rating:4.9/5.0
Reviews
Awesome Customer Service
john darsey wrote on Jul 19, 2021:
I did not eat this as it was a gift (i have plenty of times before, delicious, my father used to drop ship this to me in Cali) I am writing here because i did not see a place to tell you how impressed I was by your customer service. Due to a shipping delay the food arrived hot. When I called to let you know you were aware of who i was, the order and quickly replaced it without issue. You just became my go to for drop shipped meals. I have always known you have awesome food, great to know you have awesome customer service as well.
Birthday Gift
Bill Thrower wrote on Jun 28, 2021:
My brother-in-law loved it.
Corn.
Dave Singleton. wrote on Jun 7, 2021:
It was everyones favorite
Corn.
Dave Singleton. wrote on Jun 7, 2021:
It was the favorite of everyone
Great Stuff
Trent Smith wrote on Apr 12, 2021:
The cheesy corn bake is really good.
A Family Fav!
JE wrote on Mar 1, 2021:
Our son LOVES this stuff! It's pretty darn good, infact! It is very creamy with cheese.
Love the cheesy corn!
Sheri Clark wrote on Feb 15, 2021:
Even in the pack, delivered to my home in South Florida, it was oh so yummy! Just like I was back in KC, eating at a Jack Stack restaurant!
Great memory as a kid in KC
laurie anne dillon wrote on Feb 14, 2021:
Now in Seattle, I treat myself once in awhile to this great KC memory. I just love this corn. Thanks for the great service!
Cheese Corn Bake
Doug Meadows wrote on Feb 6, 2021:
Very Good
Delicious , savory corn.
Suzi Fichman wrote on Jan 24, 2021:
Delicious as it always has been. One of our all time favorites. Thank you.
Christmas Dinner
Brenda wrote on Jan 3, 2021:
One of our family favorites. Sooo Yummy.
Yummy Cheesy Corn Bake
Roxana Easley wrote on Jan 2, 2021:
My parents haven't had anything quite like it. They were delighted!
Granddaughter loved
Karen Reiss wrote on Dec 29, 2020:
Part of a gift, my 7 year old granddaughter said she LOVES your cheesy corn and was going to eat the whole container by herself!
Excellent
Joanne Holste wrote on Dec 28, 2020:
Arrived in great shape. Well received!
Amazing Balls!!!!!
AndiePanda wrote on Dec 28, 2020:
My grandchildren absolutely loved the cheesy corn bake. Paired with the ribs and the beans, they had a Christmas Eve dinner beyond compare in a year where we could not gather. In fact, they felt that this cheesy corn was worthy of buying for all special occasions!
Can't beat Jack Stack
Gerald Michael Kirch wrote on Dec 26, 2020:
Jack Stack always comes through with quality of the food and prompt shipping. The Cheesy corn was excellent as usual.
Good
Priscilla Ingram wrote on Dec 25, 2020:
I've tried making this from scratch. I learned quick to leave it to the pros, which is why I'll keep ordering from them. Love the smoky flavor the ham gives. Definitely a favorite side.
Military Retirement
Scott Gill wrote on Dec 5, 2020:
Sent this to my brother in N Carolina who was retiring after 30 years in Navy. He actually worked at Jack Stack as a teenager many years ago. He and his wife enjoyed very much. Was a little concerned as shipping was slightly delayed but I do understand with time of year and Covid-19. All turned out and he was able to have some real KC barbecue!
I dream about you
Jamie wrote on Nov 23, 2020:
I used to live a block away from the location in the Crossroads. Cheesy corn was my go to comfort food and I didn't realize how much I would miss it until I moved to Seattle. This bakes up nicely and I basically inhaled it on my birthday. HIGHLY recommend!
Simple taste of heaven
Stephen Childers wrote on Oct 24, 2020:
Simply melts in your mouth.
Cheesy Corn Bake Perfect for any BBQ meal
Alysia V Lightfoot wrote on Oct 8, 2020:
I have tried replicating this Cheesy Corn Bake, like most meals, I do a pretty good job with it and the family never knows the difference. BUT, Jack Stack really knows how to put this dish together and there is no replacement and the family knows when I try to make it myself. This is by far, the most delicious corn dish, ever!!!
Great
Clozie Walker wrote on Jun 29, 2020:
Love it
Gift
Sandy Bates wrote on Jun 29, 2020:
I sent this order to my son for Father's Day. Cheesy Corn Bake is his FAVORITE! Order arrived on time and he enjoyed his entire order to include beans and BBQ.
Best anywhere
Paula White wrote on Jun 22, 2020:
Totally Best corn anywhere
So delicious
Brandi Kline wrote on Jun 1, 2020:
This is an add on item that cannot be skipped. It is so delicious!!!
great food available nowhere else
ALLAN R GREENE wrote on Apr 20, 2020:
deeelicious
Cheesy Corn Bake
Colleen Walsh wrote on Apr 11, 2020:
AMAZING.... i could live on this
Delicious
Cindy Bogart wrote on Mar 28, 2020:
Excellent cheesy corn bake. I even mixed some with the beans, this is delicious both by itself and mixed with the beans.
Yummy cheese corn
JOHN M ZAHRADNIKj wrote on Dec 31, 2019:
It's been a while since I had this delicious corn dish and it did not disappoint this time. Full of cheeses and bits of ham make this a great accompaniment .
Outstanding
James Thomas wrote on Dec 29, 2019:
I ordered this on addition to a couple of meals as pre-Christmas dinners. This was a hit right out of the oven.
Always Good To Enjoy!
Anne E Burns wrote on Dec 23, 2019:
Our family has always enjoyed the Cheesy Corn Bake side dish when ordering. It has been a dependable dish to serve and always enjoyed by all of us.
Cheese and ham. What could be better?
William Garner wrote on Oct 6, 2019:
This corn dish is my wife's favorite and she's not big on ham or cheese. I always have to get it one way or the other when I order my bar-be-que. It's an added bonus because I love it too.
Taste great but family was not a fan.
Dennis Marks wrote on Jun 24, 2019:
We all enjoyed the Cheesy corn bake, but when heated seem a little bit runny. Family said it was good but not their favorite.
Bone yard
Robert Bartelotti wrote on Jan 7, 2019:
Absolutely delicious. Highly recommend.
Customers Who Ordered Cheesy Corn Bake Also Enjoy...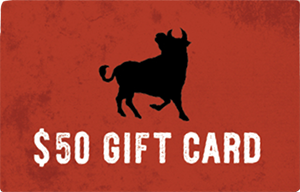 THE PERFECT GIFT FOR ANYONE!
Redeemable at the restaurants, online orders, and catering orders.