Successfully added Crown Prime Beef Ribs to your cart
Our Head Pit Master - Tim Keegan, Recommends
Review Summary
(Based on 26 Reviews)
Overall Rating:4.9/5.0
Reviews
Crown Beef Ribs
Ron Watkins wrote on Jul 18, 2021:
Absolutely the best I've ever had!! If you don't buy anything else, buy these. Well worth the money, especially during specials!!
Crown Prime Beef Ribs
Renee Deramus wrote on Jul 13, 2021:
My order arrived when it was supposed to have arrived at my address, and it was still partially frozen. The taste of the ribs was great. I wish it had less fat.
Great and meaty Prime Rib bones
nancy martin wrote on Jul 6, 2021:
Fantastic, as always--this is one of 2 items that we repeatedly order.
Prime beef ribs
Diane Griechen wrote on Jun 28, 2021:
Absolutely delicious, fall off the bone goodness.
Tasty
Robert Strunck wrote on Jun 22, 2021:
Really good!!
Monster Ribs!!!!!
Peter Lovett wrote on Apr 26, 2021:
Quick and safe shipping, arrived still frozen, highly recommend this restaurant BBQ and will order from them again and plan on visiting them in Kansas City whenever I can. I and my guests loved these giant and flavorful ribs. Thank you A+++++++++++.
Great product
Roger Lowry wrote on Feb 21, 2021:
Granddaughter loves the Beef Ribs. A great product.
Delicious Crown Prime Beef Ribs
Bill Parks wrote on Jan 10, 2021:
The delivery of Crown Prime Beef Ribs were absolutely delicious and just like I remembered eating at your restaurant. Very high quality cuts of beef that simply fell off the bone and had tons of marbling and juicy flavor. I also loved the sides of cream corn, cheesy baked potatos and baked beans. I would definitely order again.
OUTSTANDING Ribs
JOHNNIE Nash wrote on Jan 3, 2021:
The prime beef ribs were OUTSTANDING very rich flavor.
Crown Prime Beef Ribs
Ronald Braxton wrote on Dec 28, 2020:
Excellent quality meet. It was a winner on the Christmas table.
Delicious
Traci Kennedy wrote on Sep 5, 2020:
CROWN PRIME BEEF RIBS are wonderful, will order again.
Loyal On line Customer
Constance wrote on Jun 29, 2020:
I am always pleased with my orders. Food is always delicious, tender and tasty. The lamb ribs are Exceptionally delicious and the Crown Beef Ribs huge, tender and delicious.
The best ribs anywhere hands down
Chris Hall wrote on Jun 29, 2020:
Thanks Tim Keegan & team JBQ for making fathers day special for my Dad, you all are the best of the best!!
Super Tender
Abby Wong wrote on Jun 28, 2020:
These ribs did not disappoint. They were super tender and super delicious.
Superb!
James Boulger Jr wrote on Jun 28, 2020:
Crime prime beef ribs were absolutely delicious. Very tender and tasty!
A Perfect Gift For My Clients Who Moved from KC!
Rebekah Groebe wrote on Jun 28, 2020:
I sent this to my clients who moved away from KC! The package arrived on time, and they were very excited to get a taste of KC in NJ! Delicious!
Prime Time !
Robert Travis wrote on Jun 13, 2020:
These prime beef ribs are always smoked to perfection. They are big enough that two of us share a rib and a half, and save the other rib and a half for tomorrow....... Lip smacking good !
Beef Short Ribs
Jeff Brooks wrote on Jun 8, 2020:
The best ribs I've ever had, so tender and well-flavored. I have already ordered more!
Best beef ribs ever
Nicole wrote on Jun 1, 2020:
The ribs arrived quickly. Visually they were appetizing. The smokiness was a delight to the nostrils as soon as the package was opened. The tenderness of the ribs is unparalleled. Flavorful and delicious. Hands down the best beef ribs I have ever eaten. I will be ordering them again and trying some of the other offerings as well.
Absolutely divine!
Darlene wrote on May 30, 2020:
The most tender, succulent, delicious ribs on the planet! This is the reason we order from Jack Stack-Fiorella's! While the side dishes have declined a bit and increased in price, these crown ribs remain consistently excellent, though pricey. They are huge and meaty.
Truly special !
Clifford wrote on May 9, 2020:
If you have never had Jack Stacks' Crown Prime Beef Ribs, then you are missing out on ribs that are truly special. Everybody with a grill makes ribs. These aren't them. These are BIG, juicy, smoky deliciousness on a bone. A big bone. Nothing like you've ever had. And you will be back for more. We have. And we will again....
Great product
Frederick Demps wrote on Mar 8, 2020:
Great product and very tender.
Beef Prime Crown Ribs
Robert Travis wrote on Aug 19, 2019:
I keep a supply of these in the freezer. We will thaw them about every two months, and following the instruction on the package, prepare them on the grill. This is our favorite !
JS order review
Nelson Pabico wrote on Jun 15, 2019:
very good quality
Outstanding
Ronald wrote on Nov 25, 2018:
If you live in California its seldom you can eat a very good meat like this. It so delicious, very tender and very flavorful. It was worth and very reasonable for the price and I will definitely order again.
Dinner suprise
Robert Beal wrote on Feb 29, 2016:
I knew something special was instore when I opened the package. The natural beef aroma filled my nostrils with goodness. After a little oven time these fork tender ribs were mouthwatering. I split them however next time this is all I am eating. Well done Jack Stack.
Customers Who Ordered Crown Prime Beef Ribs Also Enjoy...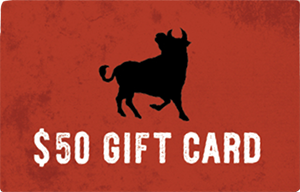 THE PERFECT GIFT FOR ANYONE!
Redeemable at the restaurants, online orders, and catering orders.