Successfully added Hickory-Roasted Lamb Ribs to your cart
Our Head Pit Master - Tim Keegan, Recommends
Review Summary
(Based on 16 Reviews)
Overall Rating:4.9/5.0
Reviews
Lamb ribs
Ron Gitaitis wrote on Jul 12, 2021:
Awesome!
Roasted lamb ribs
Diane Griechen wrote on Jun 28, 2021:
Took a chance that the family would enjoy these and boy did they! Definitely going to be on our Christmas menu.
Delicious
Betsy Sterck wrote on Jun 26, 2021:
So easy to heat up. The meat is so tender and seasoned perfectly
Lamb Ribs.
Bob S. wrote on Jun 25, 2021:
Delicious and tender.!!!
Best grilled lamb!!
Felicia P. wrote on Jun 22, 2021:
Never disappoints... The food delivery is awesome in that you get the same quality of food, juiciness, and freshness brought to your door although states away! Superb!
Lamb Ribs
Ellen Ramey wrote on Jun 19, 2021:
Tender and delicious!
Lamb ribs!!!
MinaB wrote on Jun 6, 2021:
Most of my guests had never had. All loved them.
good ribs
Edward Ronan wrote on Dec 28, 2020:
They were sent as a gift. Our friends loved them!
LAMB RIBS
KRISTI MIDDLETON wrote on Jul 13, 2020:
LOVED THE RIBS LAMB WAS MANA
Nice lamb ribs
Edward Ronan wrote on Jun 29, 2020:
We really enjoyed the lamb ribs at our Fathers' Day gathering!
Lamb Ribs
Jeff Brouillard wrote on May 31, 2020:
Great ribs! Different but just as good a baby back and beef ribs. We will definitely order them again!.
Great lamb!
Clozie P Walker wrote on May 23, 2020:
I love the Lamb ribs at Jack Stack.
Lamb Ribs
Mike and Patty wrote on Mar 18, 2019:
They were great, what a delicious taste. Can't wait to order them again
Highly Recommended
Lynette R wrote on Feb 24, 2019:
The lamb is seasoned just right, has very little fat and very tasty.. Will be ordering again.
Sent Lamb Ribs to my Brother in Jacksonville, NC
Maedell Davis wrote on Oct 20, 2018:
He love these ribs. I would meet him in our hometown Kansas City, KS, to visit our siblings for a few days for his B-Day on October 11th. We all would go to Jack Stack in Overland Park, KS. Since him and I haven't returned there in 3yrs, my sisters and I send them to him. Best lamb ribs we've ever tasted. Thank you for all the good flavor of meats and sides that you prepare daily to serve families!
Lamb ribs, who knew?
G. August wrote on Jun 2, 2013:
These were awesome, meat fell off the bone, nice rub did not overpower the sweet taste of lamb. Just enough smokey flavor kept diners going back for yet another rib
Customers Who Ordered Hickory-Roasted Lamb Ribs Also Enjoy...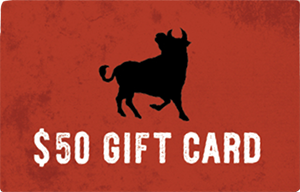 THE PERFECT GIFT FOR ANYONE!
Redeemable at the restaurants, online orders, and catering orders.