Successfully added Mom's Carrot Cake to your cart
Our Head Pit Master - Tim Keegan, Recommends
Review Summary
(Based on 11 Reviews)
Overall Rating:4.9/5.0
Reviews
Carrot Cake
Don Allison wrote on May 8, 2021:
Best carrot cake in town!!!
The best
Lee Margot wrote on Apr 12, 2021:
Mom's Carrot Cake is the best I've had during my 68 years. We order it time and again and it never disappoints!
Best carrot cake I've tasted
Priscilla Ingram wrote on Dec 25, 2020:
Moist and delicious. Wished they had it in larger size.
Thanks, Mom
Michael Hosokawa wrote on Nov 30, 2020:
I do not know whose mom is responsible for this carrot cake, but she wins the prize. If you like carrot cake, you have to try Mom's Carrot Cake. If you are not fond of carrot cake, try this one. You will like it.
delicious as always!
Tracey Seabolt wrote on Jul 20, 2020:
I can't believe I survived the first 50+ years of my life never tasting carrot cake and am forever indebted to Jack Stack for turning me on to it - and making me an addict. So nice that I can get a fix when I need it, by having this delivered to me. Thanks for bringing KC to Delaware, Jack Stack!
great
Elizabeth wrote on Jun 29, 2020:
HANDS DOWN THE BEST CAKE I EVER ATE!, IT DESERVES MORE THAN 5 STARS
Best Carrot Cake ever!
Lee Margot wrote on Jun 22, 2020:
Beautiful flavor, icing to die for. Gold stars all around.
Best Carrot Cake in Kansas
Vicky A Baur wrote on Jan 26, 2020:
My son Nicholas and I used to periodically hang out together down at the Plaza. We would walk through the shops, take photographs, laugh a lot and always round it up with a meal at Jack Stack. The food is so good, he finishes his plate every time. I am a lighter eater and can only eat half of portions, so I get a delicious lunch the next day too. We always take a piece of the Mom's Carrot Cake home to to share after we each take a few bites at the restaurant when it is fresh and hot. He left for boot camp in May of last year. While he was on leave in September we made our way to Jack Stacks before he went back. He is adjusting to his new base after Christmas and I wanted to send him a slice of home to his base in California. I saw that Jack Stack delivers!! So I ordered Nick a Mom's Carrot Cake and had it shipped to him. He called me elated and told me it was the best gift ever! Kind of pricey, but worth every penny! Thank you so much Jack Stack! We will see you when he gets home for leave again in May. Cheers!
Dessert piece de resistance
Peter Cartwright wrote on Dec 28, 2019:
We always finish our Jack Stack dinner with THE Carrot Cake. It is exceptional.
Mom's Carrot Cake
Ray Henderson wrote on Dec 2, 2019:
Very Delicious, wish it was bigger.
Yummy
Valerie wrote on Dec 28, 2018:
THE PERFECT CARROT CAKE.
Customers Who Ordered Mom's Carrot Cake Also Enjoy...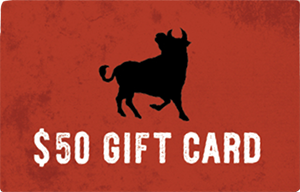 THE PERFECT GIFT FOR ANYONE!
Redeemable at the restaurants, online orders, and catering orders.