Successfully added Petite Crown Prime Beef Rib to your cart
Our Head Pit Master - Tim Keegan, Recommends
Review Summary
(Based on 6 Reviews)
Overall Rating:5/5.0
Reviews
Great Food
Rebecca Lutzer wrote on Jun 2, 2021:
The Crown Prime Beef was delicious!
crown prime beef rib
Thomas Early wrote on Feb 27, 2021:
great
Great Petite Crown Prime Beef Rib
Janet Barber wrote on Jan 2, 2021:
My only criticism was there was only one rib in the package and we have two dogs! Great flavor and taste. Easy to prepare. Highly recommend this item.
Best in the WORLD!!!
Susan B Ursin wrote on Dec 21, 2020:
This was a gift for my son. He is very particular when it come to food. He said this was, by far, the very best beef rib he has ever eaten.
Yummy but pricey
Thelma Sutter wrote on Oct 17, 2020:
The ribs were super delicious! Very tender, literally melts in your mouth.
Ribs fit for a king
mike wiggan wrote on Jan 8, 2019:
I ordered the Petite Crown Prime Beef Ribs for a post Christmas meal. They were simply the best - hearty, meaty, and surprisingly not much fat. I look forward to getting some again.
Customers Who Ordered Petite Crown Prime Beef Rib Also Enjoy...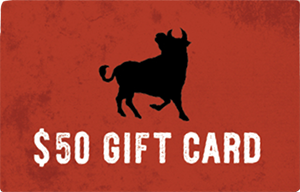 THE PERFECT GIFT FOR ANYONE!
Redeemable at the restaurants, online orders, and catering orders.