Successfully added Baby Back Ribs 2 to 4 (1 Slab) Packs to your cart
Our Head Pit Master - Tim Keegan, Recommends
Review Summary
(Based on 19 Reviews)
Overall Rating:4.9/5.0
Reviews
Ribs
John Gavin wrote on Sep 20, 2021:
Very good
Great Gift
Karen Scheirmann wrote on Sep 5, 2021:
This was a perfect 50th birthday gift for my BBQ loving nephew. We always stop at Jack Stacks when in town and load up on to go favorites! The staff has never been anything but nice, fun and accommodating, too!
Baby Back Ribs
Mary L Burke wrote on Aug 29, 2021:
The baby back ribs were delicious, tender and very tasty with their excellent sauce. They were definitely finger-licking good! Preparation was quick and easy.
Very good service
Phillip Raila wrote on Aug 23, 2021:
Very good - who doesn't like Bar-B-Que ribs ????/
Baby Back Ribs
Tim wrote on Aug 22, 2021:
Absolutely delicious. Very meaty and fall off the bone. Just like being back in Kansas City at the restaurant.
BB ribs
David Calcagni wrote on Apr 25, 2021:
excellent
YUM!
Ardith Bergeron wrote on Feb 13, 2021:
Baby back rib gift for my sister -- her family loves them! I do too! My aunt gave them to our family for Christmas. Jack Stack is an exciting and very welcome gift! My sister had them the day they arrived and she said they were delicious. My dad sent them to my uncle for Christmas, and his family also ate them the day they arrived. Enough said!
Excellent
Bruce wrote on Feb 13, 2021:
It's Rare to have frozen food taste as good as this did. I have eaten at Jack stacks many times and this was just as good as eating at the restaurant. The only bad thing was the Chiefs lost the Super Bowl
Great.... this order was a Christmas present
Nikita wrote on Dec 28, 2020:
I loved these ribs so much I gave them as Christmas gifts to several family members in 2020. Thank you
Lot of meat
Barbara Standard wrote on Dec 28, 2020:
The best and they had a lot of meat on the bone and excellent taste.
Meaty ribs!
LouAnne DeWoody wrote on Dec 20, 2020:
Really enjoyed the ribs. Served the half racks to another couple, my husband and myself. Everyone really liked the sauce flavor, and the meat fell off the bones.
Baby backs
RC wrote on Nov 11, 2020:
Can't wait to have a sale on your ribs giving a rack with every order.
Great job
Charles Perazich wrote on Nov 9, 2020:
1st order shows up 3 days late. Customer service took control and shipped a new entire order. This order was PERFECT. Still had ice and all were cold. Thank you for standing behind your product.
Baby Back Ribs
Barbara Edwards wrote on Oct 10, 2020:
Excellent ribs. You can't miss Jack Stacks ribs while watching your Chiefs even when you're in Colorado. Baby Backs are the best. Thank you!
Ribs as Good at Home as they are at the Plaza!!!
Alysia V Lightfoot wrote on Oct 8, 2020:
Delivered, Baby Back Ribs from Jack Stack is as good, as it is, table side at our favorite table at the Plaza!!! Our family in Overland Park, first introduced us to Jack Stack 15 years ago and it's the only BBQ we go to, when in town. And when not in town, it's our only go to when ordering online for home delivery. Perfectly packaged and still frozen upon arrival. That says a lot since the delivery address is in Southern California. My husband and I do a great job, finishing off the ribs, but there always seems to be a little something left for the pups to lick off. Thanks JS!!!!!
Great Ribs
David Black wrote on Sep 14, 2020:
I ordered these ribs for a friend back in Arizona that used to live in the KC area. They loved the ribs and said they were great.
LOVE BABY BACK RIBS!
Darold Whitmer wrote on Aug 15, 2020:
I got hooked on Jack Stacks bbq at the KC restaurant. I reorder these when the freezer is bare! And it gets bare a lot! Denver D
great ribs
Carl William Taitano wrote on Aug 9, 2020:
what can I say. The ribs were great and well sauced.
Too much sauce
Jennie H wrote on Jul 23, 2019:
Ribs were good! I prefer to put my own sauce on ribs, there was no option for ribs without sauce when I ordered.
Customers Who Ordered Baby Back Ribs 2 to 4 (1 Slab) Packs Also Enjoy...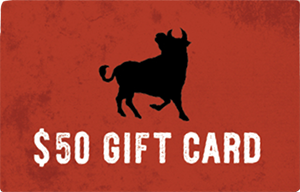 THE PERFECT GIFT FOR ANYONE!
Redeemable at the restaurants, online orders, and catering orders.