Successfully added Beef Combo Taste Plate to your cart
Our Head Pit Master - Tim Keegan, Recommends
Review Summary
(Based on 33 Reviews)
Overall Rating:5/5.0
Reviews
AW
Andy Wolf wrote on Aug 30, 2021:
On time and delicious as always!
Outstanding food and service!
George Woolet wrote on Jul 26, 2021:
I've eaten at your restaurants and ordered online. The same quality as I've always known! The food is great and delivery was on time. .
Beef combo
Anthony wrote on Jun 14, 2021:
Everything is/was perfect! Love the taste from my adopted home of KC. Should be a 10 star rating !
Best bbq
Joseph Liu wrote on Feb 28, 2021:
Even shipped halfway across the country Jack Stack is still amazing bbq. A little touch of home from far away.
SUPRR DELICIOUS
Jay britton wrote on Feb 21, 2021:
Can't beat jack stack
Just like being at the restaurant
Cindy Hoffecker wrote on Feb 21, 2021:
Our friends said it tasted just as good as being there!
Great Experience
Liz Alingh wrote on Jan 20, 2021:
Very easy to order and send to family for the Holidays!
REVIEW FOR BEEF COMBO TASTE PLATE
Jim Ehret wrote on Jan 3, 2021:
The greatest brisket ever! The beans fantastic as always.
Just in time for Christmas
Christine Birzer wrote on Jan 2, 2021:
The order was received in time for the holidays and was loved by the recipients. What a great way to send a piece of Kansas City to our family who couldn't travel home this year.
Melts in your mouth
Roxana Easley wrote on Jan 2, 2021:
My parents loved the beef combo plate with brisket and burnt ends!!
Gift
Linda wrote on Jan 1, 2021:
My father received your gift early and really enjoyed the Beef Plate!
Great gift
Karen Reiss wrote on Dec 29, 2020:
We ordered this as gift for our son and his family. They were thrilled to receive it!
Good stuff
William E Hill III wrote on Dec 28, 2020:
Everyone was happy.
Gift
Billie Koetting wrote on Dec 28, 2020:
I sent this product to a family member as a gift because I trust Jack Stack Barbecue quality from pervious dining experiences. The tracking number shows it was delivered.
Beef Combo Taste Plate
Julie wrote on Dec 26, 2020:
Just like we remember
BBQ Gift
Mary Moulton wrote on Dec 21, 2020:
Sent this as a gift to friends in Oregon, & they LOVED it. But who wouldn't, right?!?!
Fabulous!
Judy Chaffee wrote on Dec 21, 2020:
Jack Stack never disappoints! I can count on them every time to ship and deliver when they say they are going to, and in great condition. The food is remarkable and all my family LOVES the product. Thank you !!!
Delicious
Michele Kaplan wrote on Dec 21, 2020:
You never fail in quality and delivery. Our favorite gift to send
What a treat!!
Carol L Knight wrote on Nov 2, 2020:
This food is fantastic and I don't have to worry about going out! Thank you so much. As soon as I'm through eating this batch, I'll buy more!
Real Deal BBQ
Marilyn Strodtman wrote on Oct 16, 2020:
The bbq online ordering is easy to use. All was delivered on time all the way to Florida. The person receiving the order said the food was excellent.
Delicious
CHANTAL wrote on Sep 26, 2020:
Best burnt ends I have ever had !
For my son that lives in Atlanta!
Natalie McMillan wrote on Sep 20, 2020:
Brownie was rich and delicious!
Great service
Gloria Potter wrote on Aug 21, 2020:
Arrived on time, still frozen & was yummy
The BEST KC BBQ
Melissa Dunlap wrote on Jul 26, 2020:
Jack Stack is by far the best in KC! Absolutely love the food here--so much so that I have it shipped all the way to Texas (where they THINK they have the best)!!!
Can't beat KC
John Williams wrote on Jun 1, 2020:
THE FOOD WAS AMAZING!
Amazing bbq
Sara Reynolds wrote on May 25, 2020:
Brisket was the best I've had. The burnt ends were meaty and not just chunks of fat like I've had at other places. Perfect amount of smoke and the sauce was delicious with just a hint of heat. The beans were amazing! Sweet and smoky and just delicious!
As advertised and more
Kris Owara wrote on May 3, 2020:
I sent this to my brother in Atlanta. It arrived as scheduled. It arrived in great shape. And along with an order of cheesy corn was plenty for a family of 4 adults. Cannot forget the cheesy corn. They said that everything was great. Better than advertised.
KC Chiefs Prime
Jewell Gould wrote on Feb 17, 2020:
Friendly wager among KC ex-pats, but with the victory felt the only right thing to do was to see that my California friends could sage their grief with Jack Stack's great meal. I am delighted and they are fans now if at least the Q.
Wonderful food.
Peggy/Everett Thurnau wrote on Feb 10, 2020:
We received our order as expected and loved the food. Will make an order again.
Excellent Service
Joseph Hernandez wrote on Jan 3, 2020:
Ordered last minute xmas gift and order was shipped and received prior to commit date. Very seldom does one experience this reliability during the holidays, thanks!
Great Gift!
Lynn M Bennett wrote on Dec 27, 2019:
I ordered this and had it sent as a gift to family in another state...we are all far from the nearest Jack Stack restaurant. The package arrived when promised, frozen solid...and the quality is just as if we'd taken it from the restaurant. Excellent experience!
Food is Beyond Belief
Donna Schmitt wrote on Sep 29, 2019:
Excellent, food is beyond belief, so easy to prepare & comes out tasting like you have been cooking all day,
Great Eats
Joseph McCoy wrote on Dec 10, 2018:
Great food, loved the brisket and the beans. Not my first time eating Jack Stack Barbecue, but my first mail order meal. Came on time, preparation instructions were clear, and most importantly... the food was great!
Customers Who Ordered Beef Combo Taste Plate Also Enjoy...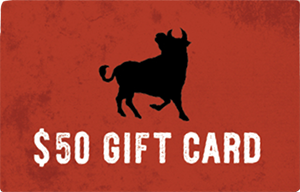 THE PERFECT GIFT FOR ANYONE!
Redeemable at the restaurants, online orders, and catering orders.