Successfully added Best Sellers Buffet to your cart
Our Head Pit Master - Tim Keegan, Recommends
Review Summary
(Based on 23 Reviews)
Overall Rating:5/5.0
Reviews
Exceptional Food & Service - Special Thanks to Greg!
George wrote on Sep 13, 2021:
We were planning to have the Best Sellers Buffet for my daughter's birthday party, but some weather delayed its delivery--unfortunately, despite extra dry ice that had been packed, the package arrived thawed after a 3 day delay by FedEx (no fault of Jack Stack's). Greg over there had been extremely responsive to my calls, was really understanding about the situation and explained to me both what they look for to see if a delayed package has still been kept safely, and what they would do if it didn't arrive in a condition that they believe represented their quality. The sad part is that it arrived thawed. The great part of the story is that Greg showed me that Jack Stack really stands behind their products and their quality. It's increasingly rare to find people and places that take pride in what they do and I was just blown away. They shipped out a new buffet, which we enjoyed after it arrived and the quality was simply outstanding and everything, from the brisket to the sauced and unsauced ribs, tasted like we had just picked it up from the counter (and the heating instructions couldn't have been easier). And, of course, the burnt ends were ridiculous. I strongly recommend the food, but I have to say that Greg made what would have been a really disappointing experience into an outstanding one!
Amazing quality
Kay Christopher wrote on Aug 30, 2021:
The quality of everything in this pack was amazing. Moist, delicious, and fresh. Everyone was very impressed with the quality. We had more than enough to feed everyone seconds and still had leftovers!
Best BBQ
Jennifer Berner wrote on Feb 14, 2021:
Growing up in KC and now living in Chicago, we ordered the Best Sellers Buffet to celebrate the Chiefs going to the Super Bowl again. Arrived on time, everything vacuum sealed. Instructions on how to reheat printed on all the packaging, so easy! Everyone loved it, tasted just like we had picked it up at the restaurant that day! Will definitely have it delivered again!
PERFECT
Gerald Chaitman wrote on Feb 14, 2021:
Everything was great including quality of food and delivery on time.
Jack Stack in New Jersey
Sheryl Liddle wrote on Jan 4, 2021:
Treated friends in New Jersey with a buffet dinner from JackStack and they were thrilled. Great food and a most enjoyable meal.
Awesome
Peggy MEYER wrote on Jan 3, 2021:
Loved the food! We ate to celebrate the holidays and I recommend doing it always. It was as if I was at Jack's! So delicious!
2020
Bruce M Carnes wrote on Dec 28, 2020:
As always, JackStack was the best. Everyone loved the bbq and the sides. Perfection!
Great Meal!!
Kris wrote on Dec 28, 2020:
Great shipping. Food was easy to heat up and was fantastic. We will definitely order again!!
Yummy!
Robert Lingenfelter wrote on Dec 28, 2020:
I ordered this for Christmas dinner, and had it arrive a week early. Fedex was a couple days late, but everything was still ice cold when it arrived. However, the dry ice was gone (I was little disappointed because I wanted to play with the dry ice) :) Took everything out of the freezer a couple days before Christmas. Warming it up was as easy as putting everything into Pyrex and throwing it into the oven. Stupid easy and oh soooooooooo good!
Great!
Robert M Pinkard wrote on Dec 27, 2020:
We enjoyed this meal for Christmas. It was perfect!
Best in the Midwest!
John F Payne wrote on Dec 26, 2020:
My KC family has eaten at Jack's (OP shop) many times. I introduced my Michigan family to Jack's BBQ for Christmas dinner. The burnt ends, brisket and ribs were just as delicious as those at your KC restaurants. And, of course, the pit beans were a hit. Thank you for these Christmas treats.
Great!
Lynne Matile wrote on Dec 4, 2020:
My brother loved it. He celebrated his 60th birthday with his family. It was perfect
Share the love
Anna Gibbs wrote on Nov 2, 2020:
Sent this amazing package to children who are isolated in Virginia in order to share a "family" meal with them. They absolutely loved it. When you can't be together, there is always Jack Stack & Zoom to keep the loved ones close.
Great Gift!
Melissa Dunlap wrote on Oct 31, 2020:
I gifted this to a client in Texas. They absolutely loved it, as I knew they would! Since I'm from Kansas City and know this is the best-ever BBQ, I consistently WOW my Texas friends with the BEST KC BBQ!
Birthday party feast
Kimberly B. Reene wrote on Jul 27, 2020:
I sent this big box of family favorites to my dad for his 84th birthday and he was overjoyed to get a taste of home as he now lives in faraway Florida. Plenty for two meals for a group of 7. Thanks for making this possible with easy ordering and delivery and exacting standards in the kitchen.
Buffet Order
David Pazdernik wrote on Jun 6, 2020:
Everything was wonderful . Packed very well. Ribs and Baked Beans were awesome . Getting ready to order more . Wish you would open in St Louis .
Happy Graduation Surprise
Stefanie Moen wrote on May 24, 2020:
My son ate at Jack Stacks once on a youth trip and declares it the best bbq he had ever had. Since parties are highly discouraged at the moment, I shipped in Jack Stacks for his high school graduation dinner. He was extremely excited and enjoyed the food. Everything arrived still frozen and it was delicious!! Thank you for making his graduation special!!!
Awesome!!
Janet Schwartz wrote on Apr 13, 2020:
The best sellers buffet arrived on time and completely frozen. Everything was absolutely awesome. It brought back great memories of when I lived in Kansas.
Best sellers
Lee S wrote on Apr 12, 2020:
Absolutely delicious..was shipped from KC to NJ, packed well..was the best BBQ we ever had.. sure to order again..
Sooooo Good
Dianne LaFever wrote on Feb 10, 2020:
I'm a dedicated Chiefs fan, so, when they made it to the Super Bowl I wanted to have authentic BBQ from Kansas City for our party. At first, everyone thought I as craz, but not after they tasted it. Everything was so delicious, especially the brisket, burnt ends and beans. I can't wait for another excuse to order again. GO CHIEFS!!
Messy Faces
Kim Weitzel wrote on Jan 2, 2020:
I shipped Jack Stack to family in San Diego (who love BBQ). We were able to serve for a family meal during our visit. I was concerned with the quality but no frets. It was delicious. My only critic would be . . . we were serving 12 and the package deal was for 12 but to be safe I ordered 2 packages (for $495). We ran out of everything but a slab of ribs. I would say bigger portions of beans and corn "for sure". It's a lot of money to spend and to run out was disappointing. But their faces were messy to BBQ and they loved it. Happy New Year!
Amazing!
Kristen J Foy wrote on Dec 17, 2018:
We had Jack Stack flown in for our annual holiday party! The group loved it and the food was amazing. It came packaged nicely and so easy to prepare. The delivery fee was very reasonable! I would highly recommend Jack Stack! What a special treat!
Delicious
Della sevilla wrote on Nov 11, 2018:
Very good bbq. The chessy corn excellent. The baked beans the best. Will be ordering again.
Customers Who Ordered Best Sellers Buffet Also Enjoy...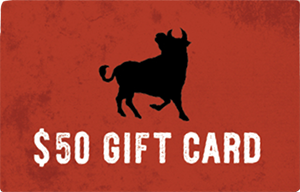 THE PERFECT GIFT FOR ANYONE!
Redeemable at the restaurants, online orders, and catering orders.