Successfully added Burnt End Combo to your cart
Our Head Pit Master - Tim Keegan, Recommends
Review Summary
(Based on 39 Reviews)
Overall Rating:4.9/5.0
Reviews
Always Great!
Cynthia Bosotin wrote on Sep 12, 2021:
We have never been disappointed with an order from Jack Stack! The best! Can't say enough good things about their burnt ends combo. Only wish the cole slaw was shippable, but we're guessing it must not freeze well. The shipments we receive are so well packed and completely frozen -- have never had a problem. Always delivered right on time. Nothing but praise for Jack Stack orders!
Food was loved!
Ed Quinn wrote on Aug 15, 2021:
My order was sent to a GA couple who were coming to visit us and eat at Jack Stack BBQ. When the trip was cancelled due to Covid concerns, I sent those "ENDS" to them as a surprise!! They really loved it and sent me a gift certificate for Jack Stack as well!
Yum!!
Cynthia Bosotin wrote on Jul 2, 2021:
We drive to KC from St. Louis several times a year JUST to go to Jack Stack, and we are primarily vegetarian! For my husband's birthday, I ordered a burnt ends dinner. It arrived timely and in dry ice, and was delicious! My only disappointment was that cole slaw was not an option for delivery. Their cole slaw is to die for!!!!
Nothing like KC BBQ
Jane K. wrote on Jun 18, 2021:
Ordered Burnt ends for a bday gift for a person who has everything...except KC BBQ!!! He and his wife loved it so much that they plan on ordering more.
FANTABULOUS!
Linda Howard wrote on Jun 5, 2021:
This order was fantastic! Great flavor, great value, fabulous meal.
Excellent
Wendy Meirick wrote on Apr 5, 2021:
Excellent
Missing KC
Kathy Hodges wrote on Feb 22, 2021:
Ordered for my husband for Valentines Day. He loved it!
Birthday Present
Johnnie Yellock wrote on Feb 15, 2021:
Awesome BBQ, & Great delivery
I knew the food was good, but the service was outstanding too!
Lane Baysden wrote on Feb 15, 2021:
I was looking at different options online and was concerned about shipping as part of the checkout process, unsure as to what speed I would need to get delivery on time but also not wanting to overpay for shipping if I didn't need to. As a result, I called the phone number for orders and spoke with someone who was AWESOME. She asked where I lived, told me what she thought was the appropriate speed, and then also told me to go ahead and finish my online order while we were on the phone together. She waited for that confirmation to come through, reviewed everything with me and then confirmed that she would get that shipment out that day. I never got put on hold, didn't get transferred, and I felt like I was speaking with someone who knew their business but also cared about my needs. Truly, this experience was beyond my expectations when I begrudgingly picked up the phone. Thank you Jack Stack team!!! Oh and the food was awesome by the way (but we already knew that). I think the order itself comes down to preference on what you like to eat, and my preference was for burnt ends. I did order chopped brisket to go along with this (I had not had that before) and it did not disappoint. You can't go wrong with Cheesy Corn Bake either!! Everything was wonderful, and I will order again, and again, and again.
Amazing
Paul DeSantis wrote on Feb 15, 2021:
Ordered the Burnt End combo for the Super Bowl and it was tremendous and will definitely order again in the future. Well worth the price for the deliciousness of the Burnt Ends.
DELICIOUS
Rebecca wrote on Feb 14, 2021:
Our food was great!!! Can't believe it tasted like we were at the restaurant. Everything tasted amazing Thank you
Best Choice in BBQ
laurie anne dillon wrote on Feb 14, 2021:
I live in Seattle now, from KC, I treated myself to some of your yummy food for the Super Bowl. I was very happy with your timely delivery, clear instructions and amazing flavor.
Burnt Ends Combo
Roger wrote on Feb 5, 2021:
Bought for my mom, for her birthday. She reports it was the best order she's received from you.
A Must Order Burnt Ends
David Poepoe wrote on Jan 18, 2021:
I was in Kansas City, Missouri, and dined twice at Jack Stack while I was there for a convention. The quality of the burnt ends, and the barbecue in general, stuck with me since we don't really have anything like it in Los Angeles, California. I took advantage of a special offer and revisited one of my favorite memories from Kansas City, yet was able to enjoy it in the comfort of my own home. The brisket burnt ends are really one of a kind and very delicious. A nice rich smoky flavor. Certainly not equal to visiting Jack Stack, but it satisfied - temporarily - a craving for terrific barbecue burnt ends.
Addicted!
Tammy Johnson wrote on Jan 15, 2021:
I haven't ordered anything I don't love yet!
Great Barbecue!
Steve Sigler wrote on Jan 7, 2021:
We really miss Jack Stack since moving away from KC and it is like going home to get their burnt ends.
Great Gift for BBQ Lover
Mark Williams wrote on Jan 2, 2021:
Purchased as a gift. Recipient loved it.
Doesn't Get Any Better
Steve Sigler wrote on Dec 28, 2020:
Somebody might make better burnt ends but I have never heard of anybody better than Jacks and no one does pit beans better. Great barbecue!!
Perfect gift
Delaina melton wrote on Dec 28, 2020:
Our family lives in AZ but they are from KC. Since they couldn't visit this year we went JC to them. They LOVED it!!
Great gift!
Robert Gallegos wrote on Dec 27, 2020:
It was a gift for a good friend. He loves the burnt ends.
Great job
Sharon Birch wrote on Dec 14, 2020:
I ordered the burnt ends combo for my Grandson's birthday. I ordered it really late in the week and I was really impressed that he received it right on his birthday. They really did a great job getting it to him right on his birthday. He said the combo was really great.
Burnt end combo
Debra wrote on Dec 6, 2020:
I lived in KC MO for 40 years before moving to Texas. Texas has good BBQ but it isn't even close to KC BBQ!! I am so glad that I can get on the computer and stock my freezer with all of the delicious things my family loves. This was our Thanksgiving meal and it was wonderful!! Now, if I could just figure out how to get Minsky's Pizza here too.
Great Food
F A Daigle wrote on Sep 20, 2020:
It didn't disappoint me as usual. When I lived in KC this was my favorite place to go for fantastic food. I miss KC so since I'm down in New Orleans I thought I would bring my favorite restaurant to me and I'm glad I did. Everyone that ate with me totally enjoyed the food as I knew they would. So thank you Jack Stack for still being one of my favorite places to eat.
KC BBQ transported to Davis CA
Tyler wrote on Aug 11, 2020:
I sent this amazing platter to my friends in Davis, CA and they absolutely loved the burnt ends. Having never experienced burnt ends or real BBQ before, it was a real treat to hear about what my friends in CA thought about one of my staple BBQ places in KC. They really enjoyed the baked beans also. Very happy about the overall experience.
BURNT END COMBO
VERONIA SPENCER wrote on Jul 12, 2020:
ABSOLUTELY DELICIOUS!!!!!....FIRST ON THE LIST TO ORDER MORE.....
Excellent All Around
Emily Soares wrote on Jun 29, 2020:
This was the perfect Father's Day gift! It was easy to order, and was delivered on time and with excellent packaging. The food was also delicious! Would highly recommend this as a gift option.
Best BBQ in Town!!!
MOLLY DATZMAN wrote on May 24, 2020:
We ordered the Burnt Ends Dinner with Baked Beans, Cheesy Corn, and Triple Chocolate Brownies. The meat was delicious and just tender juicy meat. The beans are amazing along with the cheesy corn. Brownies were also very delicious. Jack Stacks is our go to when ever we are in Kansas City!!
Taste of home!
Emily Miller wrote on May 10, 2020:
I lived in KC until I was 17-Jack Stack was our special occasion go-to. We still send it to each other in my family spread across three States because our favorite- the Burnt Ends- are so delicious, tender and smoky. The sides are so yummy in this package too. Nothing on the East coast could ever compare!
Delicious
Deborah Belker wrote on Apr 13, 2020:
I loved the beef burnt ends, corn and baked beans. I will buy again.
Amazing!!!
Buck and Christina wrote on Jan 8, 2020:
We ordered for the first time and were very pleased with the packaging, the delivery and most importantly the food. We ordered the burnt ends combo, original sauce and wings - it was easy to reheat and so amazingly tender. This is now considered an option for special occasions instead of going to restaurants!!!
Birthday gift
Sherri McIntyre wrote on Dec 23, 2019:
I send my son Jack Stack barbecue every year for his birthday and father's day, and he loves it!
Awesome
Imran wrote on Jul 21, 2019:
Awesome impressive superb
Great Gift
Doyle wrote on Mar 3, 2019:
We sent the Burnt End Combo to Florida as a Birthday/Sorry you're having to go through this gift. They are still recovering from the effects of Hurricane Michael and we thought some good ole KC BBQ might be just the thing. They loved it!
Tradition!
Jeannie Laymon wrote on Feb 11, 2019:
Growing up in the 1950's in eastern Kansas, it was family tradition to travel to Kansas City for shopping, eating lunch at Putsch's Cafeteria on the Country Club Cafeteria the weekend after Thanksgiving. My grown sons reside in Texas and I started a new "Kansas City tradition" by sending Jack Stack Barbeque Burnt Ends at Christmas time! The burnt ends are tasty and succulent and the sides add the right touch! The arrival of the white Styrofoam box with dry ice signals the beginning of the joy and wonder of Christmas! One son even sends it to me now!! Thank YOU!!
Burnt Ends? Yes!
K Kelly wrote on May 2, 2015:
We received a package of Jack Stack Burnt Ends as part of a Christmas gift. I was skeptical. Not at all familiar with ""burnt ends"", I did not understand the appeal of what I perceived as ""burned beef."" Well, I understand it now! These are amazing. I will now be a repeat and frequent customer.
GREAT PRESENT
Jeanne C. wrote on Feb 10, 2014:
I ordered this for my daughter's birthday, she went to Jack Stack during her college years and now in the military. She was surprised with her gift and said it all was as good as when she went to the restaurant.
the best KC BBQ
Sharon M wrote on Dec 16, 2012:
We always eat at Jack Stack when in the city. This will be my first time ordering for Christmas gifts. Why didn't I think of this before..........
Burnt End Combo
wrote on Oct 23, 2010:
Mychron Mikes Great Places To Eat!
James Michael McKnight wrote on Oct 22, 2010:
I always make it a point to eat at Jack Stack BBQ when I am in Kansas City and when I can't be there in person the online ordering is the next best thing!
Customers Who Ordered Burnt End Combo Also Enjoy...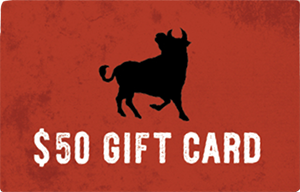 THE PERFECT GIFT FOR ANYONE!
Redeemable at the restaurants, online orders, and catering orders.