Successfully added Create-Your-Own Super Sampler to your cart
Our Head Pit Master - Tim Keegan, Recommends
Review Summary
(Based on 42 Reviews)
Overall Rating: 4.9/5.0
Reviews
Very welcome gift
Beverly Hill wrote on Nov 5, 2020:
The recipients are hard-working health care workers. They loved this taste of their home town BBQ.
Unbelievable!
Jennifer wrote on Nov 5, 2020:
My husband always talked about going to Jack Stack but I have never had the opportunity. The pandemic gave me a excuse to order from them and I was amazed how well it traveled. Everything heated up nicely and tasted soooo good! Since my original order I have ordered from there 2 more times in 2 months. Hands down the best BBQ I have ever ordered!
Great product and value
Linda Coleman wrote on Nov 19, 2020:
Our order arrived frozen and in perfect condition. Every item was delicious . Nice portions and good quality meat.
Worth it
Jack Fu wrote on Dec 4, 2020:
Best BBQ in the country delivered right to your doorsteps. A little pricey but worth it. Kansas City residents, I envy you!
Well worth the price
Cindy bridge wrote on Dec 28, 2020:
Order this for Christmas for my husband as a special treat since we live in Washington state and visited there for dinner in 2019...The food arrived in amazing packaging so much food we ended up with three meals out of it for two people everything was excellent. We were so impressed we plan to do it again next year thank you so much.
Pork Burnt Ends - A Christmas Surprise
Kathleen wrote on Dec 28, 2020:
In our first order from Jack Stack we selected Pork Burnt Ends and served them as an appetizer. They come frozen and we weren't sure what to expect. After 15" on the grill we enjoyed the most tender, tasty meat that melted in our mouths. We could have skipped the Christmas Dinner and continued to feast on the Pork Burnt Ends which we intend to buy many times in the future!
Best Present
Brittany Hanson wrote on Dec 28, 2020:
My husband was so excited to get KC BBQ as a holiday present in AZ!
Very good for gifting
Heidi wrote on Dec 28, 2020:
I purchased the Create Your Own pack as holiday gifts. The recipients all commented how delicious the meats tasted and were pleased with the variety. Said it was like eating in the restaurant.
Jack Stack
Kenneth Severe wrote on Dec 28, 2020:
The Best
Quality Product
Daniel Paul Johnson wrote on Dec 28, 2020:
We sent a a Christmas box of various bbq products and meats to our daughter and her husband and they loved the quality of everything.
Christmas gift
June S Goldman wrote on Dec 28, 2020:
Excellent gift. Family loved it and it was a way to stay in touch with my KC roots.
Delicious!
Michelle Assaad wrote on Dec 28, 2020:
The food was incredible! The delivery arrived within a few days of the delivery date. It was easy to prepare and tasted a am for!
Good eating
William E Hill III wrote on Dec 28, 2020:
Recipients were happy.
Great value
bonni haslem wrote on Dec 28, 2020:
Great picks of fabulous BBQ
Gift giving at its best!
Becky Hines wrote on Jan 4, 2021:
Bought a sampler for our friends for Christmas and they are raving about it!
Just like we remembered
SUZANNE SILAGI wrote on Jan 4, 2021:
We tried Jack Stack about 6 years ago on a road trip to Kansas City. It became our favorite BBQ of the trip, we tried 5 BBQ places on that trip! Since it was such a sucky year we thought we'd treat ourselves for Christmas dinner....we were not disappointed!! Still as delicious as we remembered, we'll definitely be ordering again!
best gift ever
raven L Lundholm wrote on Jan 11, 2021:
really enjoyed sharing this with the fam
BBQ
Anne Boehm wrote on Feb 8, 2021:
As always Jack Stack comes thru with great food.
So so delicious
Julie D wrote on Feb 8, 2021:
Highly recommend Jack Stack for the ease of ordering, the quality of their shipping, and most importantly, the deliciousness of the food! We ordered ribs, burnt ends, sausage, and pulled pork. I think next time we'll swap out the pulled pork, but the other items were outstanding. If you are wondering whether mail order BBQ is worth it, we say yes it is. From Jack Stack anyway. The sausages especially - they were the best I've had from any BBQ place.
Great Offerings
John Burns wrote on Feb 8, 2021:
I have been buying and sending JS Que for many years. The quality and taste of their meats, beans, etc. are simply outstanding.
Delicious!
Evelyn Cuny wrote on Feb 8, 2021:
Products came still frozen and well-packaged. Followed the instructions regarding reheating and the ribs and burnt ends were as good as at the restaurant. Baby back ribs were meaty and fell right off the bone. Husband said we should sell our Traeger and just buy these when we want ribs.
Wow!
Sara Enright wrote on Feb 8, 2021:
This was a gift and we love bbq so we really looked forward to receiving it. We have tried the ribs, the burnt ends, and the poor Russ so far. The burnt ends were fabulous! I've had them before but not like these. We will definitely order again. We also loved the ribs. They are done perfectly. The baby back ribs are already sauced and I found that sauce to be a little hot for me, but the ribs are fantastic! We also ordered a bottle of the original sauce. Again....excellent.
Just like home
Erin Stichnot wrote on Feb 8, 2021:
Sent this to my son in Alexandria, VA. He wasn't able to come home this Christmas, so we sent a little bit of KC to him. We appreciated the option to customize the order, and our son said it was great; that it was just like being home. The order arrived on the date expected, and there was plenty of food in the order. Well done!
Consistently Good
Dashawn Pryor wrote on Feb 8, 2021:
Perfect BBQ ever since our first encounter with Jack's Stacks in person in KC in 2006.
Fantastic
Jeff Gillett wrote on Feb 8, 2021:
Return and very satisfied customer
Delicious!!!!
Greg Cashman wrote on Feb 26, 2021:
The food is so good, and the prep is so easy. Enjoyed every bit of it. The beans are so good. My family doesn't live in KC anymore, but we all order from Jack Stack. Go Chiefs!
Just believe
Julia Salamonski wrote on Feb 26, 2021:
We loved all the deliciousness The ribs, burnt ends, and pulled pork out of this world Perfect variety pack for Super Bowl!
One bad thing
Gordon Abbott wrote on Feb 26, 2021:
Food was awesome as usual. Disappointed though the ribs were covered in sauce. Should say on the order but it doesn't. Wont order those again
Great gift.
PAUL HINSON wrote on Feb 26, 2021:
Delivered to relatives in California. KC BBQ always appreciated. Prompt shipping.
Bbq
Tom Murphy wrote on Feb 26, 2021:
Great. Thoroughly enjoyed it!
Yum
Sandi Fried wrote on Feb 26, 2021:
We sent the sampler pack to all of our kids and us for the Super Bowl. A bit of worry using ground shipping and wondering if it would arrive on time and the condition. Success with 5 locations, all frozen and ready to defrost for the game. This year, it was the best part of the game. Thank you
Great barbecue!
Mary Damskey wrote on Feb 26, 2021:
Excellent! Great quality meat! Love Jack Stack!
AMAZING
Jeremy Rogers wrote on Feb 26, 2021:
It was so good to taste JS again. I miss it here in CA.
BEST EVER BBQ
Jeanne wrote on Mar 5, 2021:
Ive tried it all, I love it all.
Best BBQ Ever
Aaron Sturman wrote on Mar 22, 2021:
I've been eating Jack Stack since 1997, when I used to travel to Kansas City for business. I now live in Dallas and order online. The food is always incredibly delicious, it reheats as if being served in the restaurant. The beef burnt ends are out of this world. If you can work the beef rib into your package-do so, you won't be disappointed. One of the best pieces of BBQ I've ever had. I love this stuff!
Birthday
Mary Buford wrote on Apr 6, 2021:
Ordered as a birthday gift for my son. It arrived exactly as promised and they loved everything.
Amazing BBQ
Lori Hansen wrote on May 11, 2021:
I had Jack Stack 2 years ago in Kansas City and it was the best BBQ!! We ordered last week and shipped to NE- the quality did not disappoint! Just as I remembered amazing, delicious BBQ even after shipping!!
I looooove Jack Stack!
Jennifer O'Brian wrote on May 18, 2021:
It's the best barbecue in the best barbecue city in the US. The food is always amazing and the reheating instructions are perfect. This is my new birthday dinner tradition and I like it better than a fancy restaurant out. What an incredible treat. Thanks Jack Stack!
Good gift idea
Kelly wrote on May 24, 2021:
Excellent food quality and delivery was done ahead of schedule despite being across country-- would recommend
Killer Kansas BBQ
jeff s wrote on Jun 30, 2021:
Really good stuff. The beef burnt ends and brisket were awesome and the Poor Russ is a great addition to anything. Good spicy tang on the bottle of sauce too.
Review
Billy Jones wrote on Jun 30, 2021:
Outstanding!!
Delicious food!
Kim Griffith wrote on Sep 20, 2021:
I'm from Louisville KY, my friend sent me a various amount of your bbq. Let me tell you, in my 62yrs this is the best bbq I have ever had!
Customers Who Ordered Create-Your-Own Super Sampler Also Enjoy...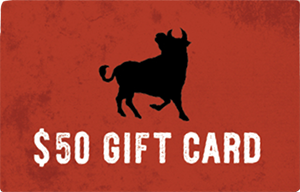 THE PERFECT GIFT FOR ANYONE!
Redeemable at the restaurants, online orders, and catering orders.