Successfully added Jack Stack Dessert 2-Pack to your cart
Our Head Pit Master - Tim Keegan, Recommends
Review Summary
(Based on 4 Reviews)
Overall Rating:5/5.0
Reviews
Birthday Gift
Bill Thrower wrote on Jun 28, 2021:
Everyone loved the desserts
Splendid dessert
David Stockard wrote on Dec 28, 2020:
The dessert was an add on to my order. My son's family was glad I did. It capped off their meal.
Wonderful dessert and food. Excellent
Anne Hanneke wrote on Jan 13, 2019:
We love the restaurants, food and delivery. I send it also to my mom and daughter in Phoenix. Please come to St Louis. The desserts are fresh, very flavorful and a nice portion. I have drove to your restaurant, ate, large carry out and drove back to St Louis. High praise on everything.
Best chocolate brownie, ever!
Gabrielle wrote on Nov 2, 2015:
I am a real Foodie and recently had the distinct pleasure of diving into the best chocolate brownie, ever! It was Jack Stack BBQ's Triple Chocolate Brownie. I prepared it just as instructions suggested and topped with a very good vanilla bean ice cream. It was worth every single calorie! Now I can't wait to try Mom's Carrot Cake. I am sure it will delight, too. Thank you for making such a decadent dessert.
Customers Who Ordered Jack Stack Dessert 2-Pack Also Enjoy...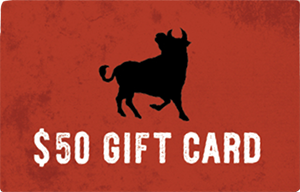 THE PERFECT GIFT FOR ANYONE!
Redeemable at the restaurants, online orders, and catering orders.