Successfully added Jack Stack Signature Sampler to your cart
Our Head Pit Master - Tim Keegan, Recommends
Review Summary
(Based on 11 Reviews)
Overall Rating:4.9/5.0
Reviews
Santa Fe loves your barbecue
Tom Taylor wrote on Sep 13, 2021:
I enjoy great barbecue and recently ordered samplers for two backyard gatherings. To say they were a hit is an understatement! Santa Fe has fallen for Kansas City barbeque. The ordering process was simple and worked perfectly. Thanks for a delicious evening.
we got er done!
Marilyn Kafka wrote on Jun 29, 2021:
First package arrived with no dry ice at all. Second package arrived ok and frozen cold. No dessert was included as indicated under signature sampler contents. Everything was delicious. Will order again and recommend for some of Mom's carrot cake:)
Once again... excellent!
Tricia Stansbury wrote on Jun 27, 2021:
Once again the quality and service from JSB was excellent. We had a small problem, that was not JSB's fault, and yet they fixed it without any hassle.
Gift giver
Chris Baltimore wrote on Apr 18, 2021:
I sent this as a gift to CO. It was shipped and received timely. You all always do a great job. You are the best BBQ!
Bbq
Tom Murphy wrote on Feb 15, 2021:
It was delicious
Reminder of home
Cindy wrote on Jan 1, 2021:
I have sent two different orders to my adult son, who moved to Oklahoma, as a gift. He has been very pleased both times. I appreciate knowing that I can send him a reminder of home and know that he will be receiving a quality item. Thanks for being reliable and allowing me to know I can depend on you to deliver a great meal!
Wonderful
Joanne Holste wrote on Dec 28, 2020:
They loved this package!
Excellent
Denise Brinson wrote on Dec 27, 2020:
Gave this as Christmas presents and they loved it! Shipping was right on in this crazy year. Food was excellent!!!! Will definitely purchase again! Great job!!
If you can't get back home to KC, bring some KC to you!
Ron wrote on Aug 23, 2020:
Excellent selection of meats - more than enough for 7 adults. Everyone loved it!
Delicious
Janet wrote on Aug 23, 2020:
Food was delicious. The only complaint is that this was not enough quantity to feed 8 - 10 people.
Excellent
Grady Kinder wrote on Nov 17, 2018:
I ordered the sampler and it was amazing, plenty of good food for the price. The beans are the bomb!!
Customers Who Ordered Jack Stack Signature Sampler Also Enjoy...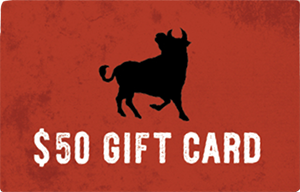 THE PERFECT GIFT FOR ANYONE!
Redeemable at the restaurants, online orders, and catering orders.