Successfully added KC Tour Taste Plate to your cart
Our Head Pit Master - Tim Keegan, Recommends
Review Summary
(Based on 80 Reviews)
Overall Rating:4.9/5.0
Reviews
A
Cora Martin wrote on Aug 4, 2021:
My Alabama family loved the food! Thanks Jack Stack
Excellent!
Carolee Cronin wrote on Jul 4, 2021:
Food was delicious! I mixed up the delivery date, contacted customer service and they changed the delivery date without charge or hassle! I made the same mistake with another vendor and they were inconvenienced but would change the date for additional charge. I appreciate your customer service and will absolutely order again!
KC Tour!
Eric Huggins wrote on Jun 28, 2021:
Great as always!! Sent it as a gift
Father's Day Gift
Karen C. wrote on Jun 27, 2021:
This was a Father's Day gift for my dad. He said the items were packed appropriately and still frozen when he received them, that the directions for the heating were easy to understand & follow, and the KC TOUR TASTE PLATE was very good.
Great for new parents
Morgan wrote on Jun 19, 2021:
We sent this to our friends who recently had a baby and they were so thrilled!
Phenomenal!
Tammy Johnson wrote on May 17, 2021:
Nothing beats Jacks Stack
Just as good as in the restaurant!
Diane C Bajorinas wrote on May 10, 2021:
I'm from Connecticut and, ever since I was a little kid, Mom always said that the BBQ we get here isn't really BBQ, it's just ribs with glorified ketchup. I never knew what she meant until I took a trip to Kansas City and got to experience Jack Stack BBQ! She was right! This Mother's Day, I surprised my mother with the Kansas City Tour package and she loved it! She said that this is what BBQ is supposed to taste like and I have to agree. The package came on time and it was packed up very well. The directions to heat everything were clear and easy to follow. Best of all, everything tasted as good as I remember! I highly recommend Jack Stack!
Purchaser
Jenn meyer wrote on May 9, 2021:
Everything was excellent. Ribs fell off the bone. Burnt ends and brisket full of flavor delicious!!
KC Tour Taste Plate
Robert Lofthouse wrote on Apr 23, 2021:
I've been sending this to family and friends around the country for awhile now. Never a disappointment! Everyone enjoys the feast! In fact, it's so mouth-watering good, I think I'll go grab some take-out right now!!! :)
Good Stuff
Throckmorton wrote on Apr 5, 2021:
Grew up in Kansas City eating this bomb BBQ, I have moved around the US due to work and always order delivery. Thanks for making some sick, fingerlicking, sauce dripping meat.
Great BBQ
ELLEN Hinman wrote on Mar 22, 2021:
Sent this to my brother for his birthday. The order arrived thawed due to delivery delays. I called Jack Stack and they sent out a 2nd order. It arrived frozen and my brother enjoyed the great bbq!
Yummy birthday gift.
Wilma J Hunt wrote on Mar 22, 2021:
Arrived in a beautiful box and the food was great.
BBQ Lover
Ryan wrote on Mar 1, 2021:
Not living in KC anymore, I miss true KC style BBQ - Jack Stack specifically. My order was delivered on the day requested and after heating on the smoker tasted better than any BBQ in my area. Nothing beats the authenticity of the restaurant taste but it's a close second. I highly recommend and am already planning my next order!
VERY Tasty And Reliable
Ken Wilshire wrote on Feb 27, 2021:
I order and have it sent all over the country and people love it!
KCTour
Kathleen Kenton wrote on Feb 22, 2021:
Love the food. But a little disappointed it did not arrive on time. Was suppose to arrive Feb 12 th. Did not get here til 16th so missed Valentine's Day. Food was still frozen though.
Loved it - although I wish it had brisket slices
Sheri Clark wrote on Feb 15, 2021:
So I may have ordered the wrong thing, as I was hoping for sliced brisket. Still all of the meat was very, very testy! The perfect sizing for 2, if you want leftovers! Perfect for celebrating a special event , especially when you're a KC native who lives elsewhere.
Great food
Elizabeth Russell wrote on Feb 15, 2021:
Friends of ours recommended your bbq so we ordered for the super bowl. We loved it! The food was delicious, especially the BBQ sauce!
consumer
Barbara Flaherty wrote on Feb 15, 2021:
I ordered this on this recommendation of my sister, a former Kansas City resident. It was delicious! It arrived still frozen and thawing/heating instructions were very helpful. There was plenty of food for two people, though I would have liked more ribs.
Game day BBQ
Patton West wrote on Feb 14, 2021:
The package arrived on time The product was fresh . I would have preferred the brisket to be sliced rather then shredded.
Delicious
Madison A Jobe wrote on Feb 13, 2021:
Almost as good as being in KC in person. Love it!
KC Tour Taste Plate
Michelle wrote on Feb 13, 2021:
Loved the chopped beef, baked beans and burnt ends
Taste plate
Doug Meadows wrote on Feb 6, 2021:
Meat was tender and well seasoned.
Gifts that are a hit!
Janalee A Hanson wrote on Feb 1, 2021:
I have ordered this for 3 family members living in California. They were all very appreciative and couldn't stop raving about how much they enjoyed it and what a surprise it was.
Great for Game Day
Bernard K Murray wrote on Jan 30, 2021:
It was delicious. Quick. Fresh.
Great barbecue
John Tankesley wrote on Jan 30, 2021:
Always a great way to send great barbecue! KC the best.
When you crave good BBQ but don't live in KC....
Emily Pierce Foreman wrote on Jan 24, 2021:
Sent my parents a BBQ dinner to Idaho and they loved it! Came in vacuum sealed packs in a styrofoam container- all they had to do was reheat (they chose to grill the ribs and oven-heat the brisket). Would definitely do this again!
A Tasty Gift
ILONA McCONNELL wrote on Jan 24, 2021:
My son was feeling kinda low, so I decided to surprise him with the KC Tour Taste Plate, a reminder of his favorite dining spot when he was a student at the University of Kansas. The package arrived promptly and in great shape. The delicious meal was just the thing to brighten his day and satisfy his taste buds. Delicious!
Wonderful BBQ
Robert wrote on Jan 15, 2021:
We sent this to family so they could get a taste of Jack Stack. They loved it so much....we also sent a side of Cheesy Cornbake and 2 desserts. They said that it came in great condition and they had enough for at least 2 meals. They loved everything about it and said the meat was so tender....will definitely send to more out of town friends!!
Christmas gift
Debbie Previs wrote on Jan 10, 2021:
Sent to family in CT. They loved it. Packing list said ribs would be included, but they received two different burnt ends instead. They said the beans were "the bomb" Will definitely send again. Thank you!
Great bbq...and a problem... amazingly solved
Bruce Waltuck wrote on Jan 10, 2021:
My wife had been craving great ribs, and so, for the first time in years, I ordered a bbq sampler from Jack Stack (before 2020 I had been to KC each year). I ordered chopped bbq sauced brisket; and beef burnt ends, along with a half slab of unsauced ribs. The box also came with beans, and a bottle of sauce. Delivery was expected on December 31st (happy new year dinner at home!). The box arrived around noon on the 30th. Opening it, I was surprised-and very disappointed- to find an error in the order. Instead of the ribs, we got a package of pork burnt ends. I immediately called Jack Stack, and got a great, upbeat woman on the line. I explained what happened, and offered to send photos of the stuff I received as proof of the mistake. She said no need, she believed me. She said a package of ribs would be sent out to me. I thanked her, but did express disappointment that my wife wouldn't have them for NYE. I could hear the big smile in the rep's voice as she said, "we can do that!" With surprise and wonder, I said "what do you mean...?" She said "there's nothing we can't fix." I said "what do you mean? We wanted them for tomorrow night...". She happily said "I am sending them right now, overnight delivery." I was shocked. "Really? ! You can do that?" "Of course" she said. I thanked her, but wondered if this could really happen. The next morning, at 10:00a.m. ... the package was on the front step! Opening it, we found the promised half rack of ribs. They were sauced...but... wow. And that night, I heated everything in the oven, and the food was... SENSATIONAL. I cook a lot, and marvel at how Jack Stack can cook this great bbq, freeze and pack it, and have it heat up to be as tender, moist, and flavorful as any bbq in town. THANK YOU Fiorella's... and I look forward to being able to return to KC again!
Gift
Mark Barrientos wrote on Jan 9, 2021:
Gave this order as a gift and was told that they Love Jack Stack BBQ
It doesn't get better than this
Robert Spiel wrote on Jan 4, 2021:
Ribs that melt in your mouth, baked beans that are beyond excellent, and many more moments of joy is what our family experienced from Jack Stack over the holidays. It's become a NY Eve tradition we look forward to as much as Thanksgiving or Christmas dinner...it's that good.
Authentic BBQ
Mary wrote on Jan 4, 2021:
I like shredded BBQ instead of big chunks and Jack Stack does it best! I always order when family visits from out of state because who doesn't love a great bbq? You can't beat the burnt ends and their bbq sauce is The Boss! Baked beans are tasty with just the right amount of spice - don't miss out!
Excellent job!
David Sneid wrote on Jan 4, 2021:
The food was excellent. The recipient (a former Kansas City resident) was overjoyed. Service, quality, price and shipping were outstanding. Everything was perfect, as it always is.
Everyone enjoyed
Leah wrote on Jan 3, 2021:
My sons said the baked beans were great. I cooked the ribs slow at 300 degrees for 20 minutes, fell off the bone. The Chopped meat was good on our baked potatoes. If it was cheaper we would buy more.
KC Tour Taste Plate
LuDell Smith wrote on Jan 3, 2021:
This was a gift but they enjoyed it & gave a good review
Happy Family
M Ryan wrote on Jan 3, 2021:
We were unable to be with family this year and sent a Jack Stack meal as a gift. It arrived a day early and our grandparents were delighted. Great food and great service - thank you!
Great gift
J Koontz wrote on Jan 3, 2021:
We bought this as a Christmas gift for family and they loved it. Even with shipping delays it showed up in time.
KC Tour Taste Plate
Susan Reinhold wrote on Jan 3, 2021:
The KC Tour Taste Plate was sent as a Christmas gift. I have always had confidence in the quality of your products, and this one did not disappoint! It arrived promptly on the date I had requested, and the recipient was very pleased with the variety in this selection! I would not hesitate to order again! Highly recommend for BBQ lovers everywhere!
New Year
Harlan Halverson wrote on Jan 2, 2021:
The burnt ends were fantastic
Awesome
Jim wrote on Jan 2, 2021:
It was outstanding
Great gift
Amy wrote on Jan 1, 2021:
This was a great choice for a Christmas gift! It was received on time and was just what we were looking for! Great food, great price!
Family Good Times
Mary Merrill wrote on Dec 29, 2020:
Thank you for your delicious barbecue meats. The food always hits the spot and my children like it! I will be a returning customer for years to come. Mary
KC Tour Taste Plate
Kristi R Carter wrote on Dec 29, 2020:
My husband loves your BBQ and was super happy to receive this as a little Christmas gift!
Rare gift find
G wrote on Dec 29, 2020:
Great gift for someone that has everything! Even the picky ones loved this one!
Gift
Kristy Preston wrote on Dec 29, 2020:
I bought your package as a gift. But his eyes lite up when he saw it. I'm told he couldn't stop raving about it especially the beans. Thank you for helping me make this one happy man.
Awesome
Paula wrote on Dec 28, 2020:
Awesome service and products as always and done with ease and accuracy and timely delivery, no surprises!
GOOD PRODUCT!!!
T. CARSON wrote on Dec 28, 2020:
i ORDERED THE KC TOUR TASTE PLATE. EVERYTHING WAS SATISFACTORY FROM THE ORDERING, SHIPPING TIME AND TO THE DINNER TABLE. THANK YOU FOR A DELICIOUS PRODUCT. CAN'T WAIT TO ORDER AGAIN AND AGAIN!!
KC Tour Taste Plate
Orlene Dentone wrote on Dec 28, 2020:
This was a Christmas gift for my daughter and son-in-Law. They texted me once is was received and said what a great package it was, that there was so much stuff. A couple of days later I spoke with my daughter and she said everything they had tried so far was delicious.
The Best of KC
Diane L Graham wrote on Dec 27, 2020:
Jack Stack (Smoke Stack) has been our favorite place since the early 60's off of Troost. Nothing better than picking up an order on way home from work and having the wonderful barbeque smell fill the car. Never a miss, always wonderful, never a disappoint!!!
Great Choice
Clifton Baird wrote on Dec 27, 2020:
The meal was delicious, it was delivered on time and in excellent condition. It was the right gift at the right time. Although a little pricey, it was a Great Choice.
Excellent...
Ktorpey wrote on Dec 19, 2020:
This worked so well. Dinner was loved and appreciated by all. Delicious and on time
Purchaser
Rod & Cindy Anderson wrote on Dec 14, 2020:
Our son LOVED his Kansas City rib dinner!
Best BBQ on the planet!
Jon Schram wrote on Dec 12, 2020:
Jack Stack BBQ is my go to gift for EVERY occasion! This one went to my mom in Michigan. Always a huge hit!
Customer
Vince Schreivogel wrote on Nov 29, 2020:
Always very good, always a wonderful treat. Thank you!!
Sent bbq to Arizona
Marcia Rodriguez wrote on Nov 16, 2020:
Everything arrived in good condition. And was tasty
Awesome anniversary dinner
Brandi Haas wrote on Sep 28, 2020:
I ordered this for my parents' 50th anniversary (since going out wasn't an option). They loved it!
Fast shipping
Thomas Judge wrote on Sep 21, 2020:
I purchased this for someone else and it arrived quicker than I would have expected.
Great Gift
Susan wrote on Aug 25, 2020:
I was glad to find a great bar-b-que meal to send my brother for his birthday. The shipping worked out perfectly, and he loved it!
Perfect
Laura wrote on Aug 17, 2020:
Quick delivery and great flavor. Highly recommend.
Great Birthday Gift
Laura wrote on Jul 13, 2020:
I sent an assortment to my father in-law for his birthday on July 4th. It arrived on time and I am told it was delicious!
Best meals in months
Rebecca Doepke wrote on Jul 6, 2020:
We love Jack Stack Barbecue and are very excited that even though we are hours away, we can enjoy it again. This was our first time to try the delivery and were hopeful that it would be as good as getting to enjoy it in person. It did not disappoint.
Excellent
Diane Aaron wrote on Jun 29, 2020:
I sent this as a gift for my niece's graduation and birthday! The food arrived in good condition and tasted great!
KC Tour Taste Plate
Ken McGuffin wrote on Jun 29, 2020:
We've ordered Jack Stack BBQ many times and always enjoyed it. The KC Tour Taste Plate is a great combination of meals and sized perfectly for a couple. My wife ordered this package for Father's Day and it was an excellent choice.
Delicious
Amanda Badger wrote on Jun 28, 2020:
A great sample of items if you just want a little taste of Kansas City!
Great meal
Andrea Rodriguez wrote on May 24, 2020:
Bought as a gift for my dad. He just turned 92 and since we couldn't be with him, we wanted to give him a meal we knew he'd love. He did!!!!!! It arrived still frozen so we were happy not to worry about the transportation time. He also said it was a lot of food and top quality.
Ribs!
Jeffrey Ambrose wrote on May 18, 2020:
It was very very GOOD!
All Around Perfection
josh lamers wrote on May 12, 2020:
Courteous service over the phone, on-time delivery, packaged with extra dry ice and padding to protect and keep cold. After 20 minutes on the grill (not a professional), taste to perfection! will be ordering again. especially glad i cued onto this just as summer is starting.
BBQ delivery
Pradipto Mukherjee wrote on May 11, 2020:
Excellent quality food - both our boys loved Jack Stack BBQ. Very well packed and preserved - with detailed instructions - that helped them to have an excellent Kansas City bbq dinner
Zoom Bar B Q dinner
Robin Kawamoto wrote on Apr 22, 2020:
We ordered KC Bar B Q and had shipped to our kids families in Chicago, Indianapolis and Boston. We picked ours up at Jack Stacks on Sat evening and we all enjoyed our dinner together while on Zoom. All the kids felt like they were in KC! Great food and family time together.
KC Tour Taste Plate
Anne Wheeler wrote on Apr 20, 2020:
This was sent as an Easter surprise to our family in CT. They truly enjoyed it as they miss KC bbq. Arrived timely too. Thanks for a job well done. We will be doing this again.
Awesome
Brendan Talty wrote on Dec 29, 2019:
Very good product. The only place I order BBQ from.
Gift
John Tankesley wrote on Dec 28, 2019:
Great way to send a Christmas gift
Very Pleased
James M. Eaneman wrote on Feb 10, 2019:
I was very pleased with the overall buying experience: Everything proceeded smoothly and as promised. The purchase was a New Year's gift to one of my oldest friends and he loved the goodies. I'll be buying from you again!
Customer
Barbara Howell wrote on Dec 31, 2018:
Everything about the meal was delicious!
Yearly Christmas Gift
Mandy Kelsay wrote on Dec 31, 2018:
We are grateful for your services!! Every year we send our father in Florida your barbeque! He moved to Florida several years ago and misses KC barbeque. His favorite is Jack Stack, so every year we send him your barbeque to celebrate Christmas with his sister. He loves it, she loves it and it is a staple for him every year. Thank you for your great food options, we look forward to making the order every year and years to come.
Outstanding!
Tami Austin wrote on Dec 30, 2018:
I've recently moved from Overland Park, KS to Georgia. I've not been able to find any BBQ that I like in GA (even their "KC style BBQ"), so I preferred Jack Stack and had it shipped to me. It came completely, properly frozen and when it was thawed and heated according to the instructions, it was amazing! It tasted just like it would if I'd been sitting in the restaurant ordering it fresh! It was probably the best meal we've had since moving here! I totally recommend it, if you want good KC BBQ and aren't in KC!
ALWAYS good!
Randy Fussell wrote on Dec 22, 2018:
Received a gift from Jack Stack Barbecue several years ago. Enjoyed it so much, we started sending gift packages to our friends over the last several years for Christmas. ALWAYS good products, always on time. Thanks for the quality!
Great BBQ!
Brian Powers wrote on Oct 22, 2018:
I have been visiting KC and Overland Park KS for business over the last 5 years. I have sampled many BBQ establishments and my peers and I agree, Jack Stack is the best! I finally took the opportunity to have it shipped so my family could enjoy it with me. It did not disappoint! The Crown Beef Ribs were just as amazing coming off my grill!
Tour Taste - Another Great Combination
Ken McGuffin wrote on Oct 22, 2018:
The KC Tour Taste Plate is an excellent choice for couples. It made three meals for my wife and I with a nice mix of Jack Stack's excellent BBQ meats. The slightly smaller size of the portions were just right for us. Should also be great for a BBQ buffet meal for a family of 4.
Customers Who Ordered KC Tour Taste Plate Also Enjoy...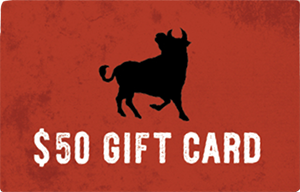 THE PERFECT GIFT FOR ANYONE!
Redeemable at the restaurants, online orders, and catering orders.