Successfully added The Classic Jack to your cart
Our Head Pit Master - Tim Keegan, Recommends
Review Summary
(Based on 56 Reviews)
Overall Rating:4.9/5.0
Reviews
Bob
Robert Treece wrote on Sep 20, 2021:
Service was good and food is always good.
Great gift!
Phill Mitcham wrote on Aug 30, 2021:
We sent this to our son in Florida because he couldn't be here in person. Huge hit! His whole family raves about it. Will definitely order again!
3rd time sending as a gift
Bob Sarubbi wrote on Aug 29, 2021:
Jack Stack never disappoints, we have shipped three times as a thank you or birthday gift and everyone raves about the quality and portions.
Outstanding
Larry Ribble wrote on Aug 16, 2021:
Almost like eating in the restaurant. Great food delivered when expected
First shipment arrived 3 days late, and very warm
Michael Cummings wrote on Jun 28, 2021:
The first shipment to the northeast was delayed within FedEx and arrived spoiled after a 6 day journey. When I inquired of Jack Stack, customer service immediately sent out a replacement package that arrived in 2 days and was frozen solid. Awesome response to a disappointing first shipment.
Sent as Gift
USMA 96 Dad wrote on May 29, 2021:
We sent this as a Thank You gift. The feedback from the recipient was all positive. Interesting to note it was sent to NC and compared very favorably to the local product.
As a gift
Sharona peterson wrote on May 24, 2021:
I sent this as a gift to some friends and Alabama. It was a day late. They said it was delicious. Ordering was easy and the tracking was good.
Delicious!
MA wrote on May 16, 2021:
Ordered this for my mom's birthday and she loved it! Rib meat fell right off the bone. Burnt ends and sides were tasty as well! Very easy to prepare.
Fantastic Gift
Michael Csrnko wrote on May 3, 2021:
Awesome Home warming gift
Kansas City BBQ to Wisconsin
Lori wrote on Apr 24, 2021:
Our son moved to Wisconsin in 2017. So he could feel 'at home' watching the Chiefs in the Super Bowl this year, I shipped him some KC favorites from Jack Stack. A cousin up there, who is a frequent KC visitor and loves Jack Stack, commented that he'd like to have some too. So I sent a second shipment a just a few weeks ago to the cousin for his birthday. Both orders arrived on time and completely frozen so there were no worries about food safety. And there were rave reviews from all who enjoyed the food. Thank You Jack Stack for perfecting shipment of your amazing food.
Terrific reception!
GEORGE W ANDRESEN wrote on Mar 21, 2021:
As I knew it would be the classic order was just the right birthday gift for our dear friends!
Superb Quality
V Reed wrote on Feb 22, 2021:
The Classic Jack package was delivered when requested and all products were just as good as I remember when dining in the restaurant. The baby back ribs and pork burnt ends were melt-in-your-mouth tender. The sides and brownie dessert were delicious as well. Recommended to my friends and family and makes a great gift as well!
Delicious KC barbecue
Donna Kay Lehner wrote on Feb 16, 2021:
We really enjoyed the Classic Jack Stack barbecue, having lived part of our lives in Johnson County. My husband particularly loved the beans and I relished the cheesy corn and we both enjoyed the ribs and burnt ends. It was our Super Bowl Sunday treat. However, our favorite team lost!!
Classis Jack gift
Mark Trueblood wrote on Feb 15, 2021:
My grandson love it!
Happy
Bonnie Lampton wrote on Feb 14, 2021:
I sent Jack Stack to Xavier University in Cincinnati, Ohio, to my son Jon and his dorm mate Max for the Super Bowl! Max had never had Kansas City BBQ now, Max ready to come to KC for more BBQ! I think the rest of the dorm hall is too. Thanks, Jack Stack, for making the two college guys happy!
Great shopping experience!
Chuck Naylor wrote on Feb 14, 2021:
I recently ordered a "Classic Jack" package to be shipped to a client. The online shopping, selection, and and purchase was very simple and easy to use. My client loved it! Thx for the great job!
Always amazing
Mary Burrus wrote on Feb 14, 2021:
Absolutely the best bbq and sides! Never disappoints.
Excellent package
Jane Kirwan wrote on Jan 25, 2021:
We received this same package as a Christmas gift and we liked it so much, we decided to order it again.
Classic Jack sent to friends in Minnesota
Janice Drake wrote on Jan 3, 2021:
We sent our friends the Classic Jack for a holiday dinner surprise. They loved it. They said that everything was delicious. We were so happy to share our favorite BBQ with friends!
The Classic Jack
Roy Clonch wrote on Jan 3, 2021:
Hassle free. Everything went well. Food was great.
Great Customer Service
Karen Bartz wrote on Jan 3, 2021:
I cannot comment on the product itself because it was a gift to others. But the shipment was apparently delivered in a timely manner and stolen just as quickly. When I called to report the problem, my order was immediately reshipped at no charge. Thank you for great service!
Fantastic gift for out of town friends.
Mark wrote on Jan 2, 2021:
We sent a gift pack to our friends in Ohio. This is part of their note to us after enjoying the surprise; Great job JSBBQ! "You made our Christmas Eve with Jack Stacks. WHAT AN AMAZING DINNER! KC puts Cincinnati in the Minor League, so enjoyed the Majors. "
Great Food
Missy Ellsworth wrote on Jan 2, 2021:
I buy the Classic Jack, every year for my family-everyone loves it!
Shipped to Seattle, Tasted Amazing!
RYAN MONTGOMERY wrote on Dec 29, 2020:
My father purchased the Classic Jack for me and my wife, who live in Seattle, WA. The package showed up, was still cold, and packaged very nicely. We stuck it all into the fridge and cooked everything the next evening. Man was it tasty! I highly recommend the Classic Jack. And remember, you can always have it sent!
A Very Welcome Supper
K Richardson wrote on Dec 28, 2020:
Sent this to distant family and they made it their Christmas dinner. Very well received. And they raved about the carrot cake, too.,
Thanks for a wonderful gift!
Joanne Holste wrote on Dec 28, 2020:
Got this package for a family member. They loved it!
Happy
Chris Abicht wrote on Dec 28, 2020:
Arrived in good shape. Delicious.
Better than expected
terry vail wrote on Dec 28, 2020:
I was worried that you indicated that it was shipped on Wed. and it did not arrive here to my business address until the next Mon. Some of the items were still partially frozen!! It was excellent, and a pretty good bargain, as I think my wife and I will be able to get at least 2 meals out of the contents and perhaps 3 meals out of the meat.
Perfect Kansas City Fare
Lynn Berlin wrote on Dec 28, 2020:
This is best gift I have sent to my California family. They loved it.
great service
David Lacornu wrote on Dec 27, 2020:
Handled order very timely. family members very happy
Christmas
Patsy Haile wrote on Dec 26, 2020:
Bought this for my son and his family for there Christmas. They enjoyed everything, all was delivered on time and in good condition. They couldn't have been happier.
Perfect gift
Michelle A Fox wrote on Nov 30, 2020:
My son in law is from the KC area. Since he and the family will be moving out of the States next month, I thought this was a perfect way to send them off.
True Taste of Kansas City!
Dana Cable wrote on Nov 15, 2020:
I've ordered this gift box twice recently for friends afar who have never had the pleasure of experiencing Kansas City BBQ at its finest. The reviews from these friends were stellar, as I expected. I'll be ordering this gift box again in the very near future. After all, not everyone gets the opportunity to eat Jack Stack, my favorite of all time!
Awesome!
Kendra Schoeman wrote on Nov 1, 2020:
Sent this to Massachusetts and it arrived fresh and on time!
Classic package
Jeannie Nogel wrote on Oct 20, 2020:
Sent this to my brother and family. They said it was great. Glad I did it. Thanks.
Everything was great!
Kathy wrote on Sep 6, 2020:
The shipment was a gift to my family. It arrived on time and fresh. My family said it was delicious, and really enjoyed the corn bake!
What a gift!!!
Rita Sue Pollock wrote on Aug 12, 2020:
We received a variety box of your BBQ from our kids. We enjoyed everything about it; the taste, the individual packaging, delivery and freezer ready, We were so impressed we immediately ordered a box sent to a friend. The packaging combinations make for single, or family group options. We are super impressed. We are grateful for the free shipping code we had when we sent the well packed, dry iced box to Florida. Thank
Delicious Summer Feast
Susan Hart-Jacquinot wrote on Aug 10, 2020:
The Jack Stack was a delicious summer feast! Perfect for this summer and easily prepared. Thank you!
Birthday Surprise
Gary Long wrote on Jun 29, 2020:
We sent a Jack Stack birthday present to our son in mid Michigan. He and his wife are delighted! The carrot cake is a hit also! Arrived safely and ready to enjoy! Thank you Jack Stack!
Perfect Gift
Annette wrote on Jun 9, 2020:
I ordered KC BBQ and of course Cheesy Corn for clients here in Nashville. They got a real taste of KC and loved the Cheesy Corn as much as I do. BBQ was great also! They were impressed with the packaging!
purchaser
james blanner wrote on Jun 1, 2020:
Enjoyed everything but the corn. Delivery was on time. Enjoyed leftovers for a couple days, but I sure missed the restaurant service. Did not miss driving 4 hours each way though. Thank you for having this service.
Delicious!
Terry Howard wrote on Apr 19, 2020:
Items arrived on time and the cooler held up fine. Everything was delicious! Will order again!
No Regrets
Bill Champion wrote on Apr 18, 2020:
We sent the your food to my daughter who is working with patients with the Pandemic Virus. The Grandkids and my SIL will enjoy as well!
Classic Jack
Josh Reilly wrote on Mar 23, 2020:
Everything was very good except for the ribs. They were a bit too salty for my taste. Over all very good food.
The Best
Judy wrote on Jan 6, 2020:
Sent it as a gift to my brother-in-law and his family. They LOVED IT! Everything was delicious. Plenty of food. Shipment time was true to what was quoted. Will definitly order again.
Best BBQ
Neda Spasevski wrote on Jan 6, 2020:
Wonderfully delicious as always. Great Christmas/birthday gift. Will order again!
Five Stars
Judi Dotson wrote on Jan 2, 2020:
I asked for a review from the person I sent it to. He loved it! He wrote: "Received as a gift from a good friend who knew of my enjoyment of good BBQ. This rates right up there at the top of my considerable experiences. Particularly enjoyed the burnt ends, the beans and, of course, the BBQ sauce. I'll be sending Jack Stack to good friends for special occasions in the future."
The Classic Jack
nancy wrote on Jun 24, 2019:
It was a Fathers Day surprise. Dad loved it all excellent. Thank You
Great!
Teresa Gray wrote on Apr 27, 2019:
My husband and I sent this as a gift and they said it tasted fantastic!
Always Delicious!
Joseph R Smith wrote on Apr 5, 2019:
I have never been disappointed with anything I have ordered.
Great KC BBQ
Marty Hensley wrote on Mar 26, 2019:
You can't go wrong with anything on this menu! Excellent food!
Delicious
Bert V wrote on Jan 16, 2019:
The ribs are good, burnt ends are delicious!
M.R.
M.R. wrote on Jan 7, 2019:
Everything was great...from ordering to delivery to enjoying this wonderful bbq meal!
They loved it!
Virginia Carter wrote on Jan 1, 2019:
I ordered meals sent to all three of our children for Christmas. As one daughter said, "a taste of home." They all loved their dinners. The burnt ends were by far the favorite!
Great service and value
steven boron wrote on Dec 31, 2018:
I have sent these boxes out for the last 4 years and everyone enjoys the amazing BBQ ... customer service is great and willing to help you out promptly.
Excellent BBQ
Paul Rottler wrote on Dec 30, 2018:
Always delicious, tender and a hit with any party. Some of the best BBQ delivered right to your front door. Can't beat it.
Customers Who Ordered The Classic Jack Also Enjoy...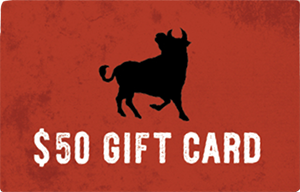 THE PERFECT GIFT FOR ANYONE!
Redeemable at the restaurants, online orders, and catering orders.