Successfully added The Pit Master to your cart
Our Head Pit Master - Tim Keegan, Recommends
Review Summary
(Based on 41 Reviews)
Overall Rating:4.9/5.0
Reviews
The Pit Master Rules
Rich wrote on Sep 11, 2021:
The Pit Master combination is the best of the best, brisket, burnt ends, and baby back ribs. Plus, you get baked beans and cheesy corn bake, a BBQ lover's favorite sides. All the meats from Jack Stack are perfectly smoked, the meat has a wonderful smoked flavor and it is moist and tender. Totally divine.
The Best!
Cyndee wrote on Sep 7, 2021:
Jack Stack came through for us on a speedy out of state order to feed 20 hungry men at a GM plant in Tennessee. They loved everything, thank you Jack Stack!!
Gift Box
Mike Hamilton wrote on Sep 4, 2021:
I sent a Gift Box of the BBQ and sides to my father for his 90th birthday. He couldn't have been more happy. I've done this multiple times and he praises the bbq. I love Jack Stack bbq and so does my father and now many of the friends he shares it with. Great job, as always. Thank you.
Pulled Pork and Pit Master
James Kopp wrote on Aug 2, 2021:
The recent order was sent as a gift. I talked with the person receiving it and he was ecstatic to say the least. It made his day along with his wife's. Never disappointed with the any product and the value. Thank you, JIm
Burnt ends the best
Jean Wygmans Nicholson wrote on Jul 31, 2021:
It arrived a day late so be prepared for the delay. The food was good but the burnt ends the best. We are "Northernrs" and are not used to baked beans being so sweet. Needless to say, they still were tasty if you like super sweet beans. The burnt ends were the best and that would be what we would order from now on. Very tender and tasty.
Outstanding
Judy OBrien wrote on May 17, 2021:
We were given a gift card for Jack Stack by my KC sister. I used it to purchase the Pitmaster for my husband's birthday dinner. We celebrated with friends who are now big fans of Jack Stack and future customers. The shipment came exactly when promised. It was so easy to prepare and received rave reviews all around the table.
GREAT BARBECUE
Maureen Kocka wrote on Apr 19, 2021:
I ordered the Pit Master but haven't been able to try everything received. The Ribs were delicious but will probably order them without sauce the next time. The Baked Beans were excellent and were eaten in one day. Yesterday I tried the Beef Burnt Ends - they were fabulous. Thick and meaty with a fantastic taste - I will be ordering them again. Unfortunately, that's all we've had so far. I'll probably be trying the Pork Burnt Ends next and I'm sure they will be excellent also. I was asked to review this order several days after it was received and, unfortunately, hadn't gotten to try all the different items in the package.
A Taste of Home
Mark A Raab wrote on Mar 30, 2021:
A fantastic gift idea for someone who left the Kansas City area. A delicious combination of World Famous Kansas City BBQ.
Second Time, Just as Good
Peter Chase wrote on Mar 20, 2021:
Got the Pit Master for the second time, and it was as delicious as the first. Cooking is super easy and the meat selections are excellent. Paired up with the tasty sides it comes with and the optional carrot cake, quite the feast!
Love Jack Stack!
Patricia D'Adamo wrote on Feb 15, 2021:
Arrived quickly and everything was soooo good!!! Love Jack Stack!
Pit master
Nancy Keith wrote on Feb 15, 2021:
I was visiting Tucson arizona for the Super Bowl. I ordered the Pit Master. It was excellent. My Tucson friends never had tasted KC BBQ. They loved it. It was well worth the money
We miss KC
Wilson wrote on Feb 15, 2021:
Everything was great! It was like being in KC. Food arrived on time and was easy to prepare. It made our Super Bowl party an authentic Chiefs party.
Master Pit
Fran. Montgomery wrote on Feb 14, 2021:
Excellent
Absolutely Delicious!!
Donna Bartley wrote on Feb 13, 2021:
Absolutely Delicious!! It was a taste of home in Michigan. Arrived on time & still frozen. Preparation directions were clear and easy to follow. So yummy!
Well Worth the price
Laura Swafford wrote on Feb 1, 2021:
This is a delicious combination that arrives exactly on time and is as fresh and juicy as when you are sitting at Jack Stack restaurant! After moving away from Kansas City, we order this over and over again and it always is a delicious experience!
So Good!
raven L Lundholm wrote on Jan 11, 2021:
Got some as a gift for Christmas. Best ever!
Overall good quality
Kyle Vogelsang wrote on Dec 31, 2020:
The order itself came 2 days early, which was perfect. Brisket was so tender, just used a fork to cut, 5 stars, burnt ends, my first time ever trying, fantastic, 5 stars. Babyback ribs, kind of a funny taste, quality meat, but family didnt like as much, said mine were much better, only 3 stars, baked beans, 5 stars, cheese corn, 3 stars and carrot cake, 5 stars. Overall fun experience, we live in AZ and order held up well, very pricey, but made for nice Christmas dinner. A note on the sauce, Kansas City based style (of course) is generally more tomato tasting vs vinegar or spicy bbq, Everyone has their own preference, to me, all are good but I do prefer the Tennessee and North Carolina style better.
Gift
Annie Kinsella wrote on Dec 28, 2020:
I purchased a variety of items for my husbands birthday. Due to Covid hard to get out. The products were wonderful!! My husband loved the surprise gift! He loved everything and had a very Happy Birthday!! Thanks for offering shipping anywhere so he could have a special treat!!
Great eating!!
Nancy Dobbs wrote on Dec 28, 2020:
We were looking to send a gift to our son and family in California. I checked a couple of places and no one could guarantee a Christmas delivery...until someone suggested Jack Stack...perfect...and local! Our son said a wonderful cooler of food was delivered in perfect shape!
Fabulous
Nola Brown wrote on Dec 27, 2020:
We had a houseful and they all loved ever bite! There was nothing left! Great first time idea my husband had. He had eaten there before and wanted to share the goodness with family and Tennessee! Thanks
Jack Stacy BBQ
M John Robinson wrote on Dec 26, 2020:
We ordered several meal packages for our family members this year and all were very satisfied. Thanks. M John
Pit Master
Samuel Rowe wrote on Dec 21, 2020:
I ordered the Pit Master for my daughter and her family and they were excited to get the order..They thoroughly enjoyed the meal thank you
Amazing barbecue!
B Lucas wrote on Dec 13, 2020:
We live in Texas where they believe they are kings of barbecue. Hands down Jack Stack has them beaten, even Franklin barbecue. Wonderful meat and amazing sides. It's worth having it shipped all the way to Texas. There is still dry ice in it when it gets here so it stays delicious!
Could not be happier!!
Melissa Simon wrote on Dec 4, 2020:
We sent The Pit Master to the University of Nebraska Hospital in Omaha to the doctors and nurses on the 8th floor. These Dr's & Nurses spent the last 30 days saving the life of my cousin's son who suffered a TBI. I didn't want to send flowers or cookies and thought this would be THE BEST gift ever. The nurses were so ecstatic they saved the spread a day so they could eat it on Thanksgiving! I teared up when I heard this! They loved it and EVERY nurse/doctor I tell this story to tear up and agree this is THE BEST thing you can send those on the front line!!
Just do it
Jamie wrote on Nov 23, 2020:
If you're no where near Kansas City DON'T over think this. I haven't had decent BBQ in over a year and this filled the void. My husband and I were impressed by how similar it was to fresh. There was no labor involved in the cooking process so eating it at home seemed like a real treat.
What A Treat
Kevin Edmundson wrote on Nov 22, 2020:
Very well done
Awesome
Bryan Becker wrote on Aug 17, 2020:
Easy to make, absolutely fantastic and everyone loved it.
Not As Good As Their Restaurants
Theresa Dooley wrote on Jul 20, 2020:
I don't know why but it just wasn't as tasty as eating in at the restaurant. I got this for my husband for a birthday present. We had an amazing meal at the Freight House location when we visited Kansas City last fall and I thought this would be the perfect gift. It was delivered perfectly and still frozen solid. I followed the thawing and reheating instructions exactly. It was good, don't get me wrong but I think the freezing and reheating does something to it so it doesn't replicate the fantastic taste from the restaurant.
Pit Master
Amy Kelly wrote on Jun 29, 2020:
Very good and easy to cook, Will order again!
Great option for get-togethers
David wrote on Jun 27, 2020:
I been ordering Jack Stack for several years now. It always makes a great option for parties or holidays such as Father's day. I love how everything is ready to go and can be thrown in the oven or grill and reheated. Smells and tastes just like being at the restaurant.
Pit Master
Marianne Getchell wrote on Apr 20, 2020:
It was so great to be able to order the Pit Master to be delivered to us here in New Mexico. Everything was perfectly delicious. Plenty of good food for the money. We still have burnt ends and ribs in the freezer to enjoy again! We have recommended shipping Jack Stacks to our family all over the US.
Awesome!!
Mike wrote on Apr 12, 2020:
First time shipping to my residence in MD! Easy, fast, and delicious as always
Sending some KC To California
Patricia Leddy wrote on Feb 9, 2020:
I ordered the Pit Master to be delivered to my son's home in California. The delivery/food was amazing. Although the online ordering process was simple, I made a call to Travis at Customer Service to ask questions on this first order. She was beyond helpful!!
AMAZING
AK wrote on Dec 7, 2019:
This BBQ was amazingly delicious. It tasted like we were at the restaurant and I was thoroughly impressed.
Pit Master bbq shipment
Scott wrote on Jul 21, 2019:
For my best friends retirement as an airline pilot, I ordered his favorite bbq from all his layovers across the country. Your bbq package arrived frozen, on time and by following your reheat directions they tasted as good as if we were in one of your fine restaurants. Not bad for enjoying the bbq two states away in Park City Utah Great job!!!
Pit Master
JR wrote on Dec 29, 2018:
Sent the Pit Master as a Christmas gift in 2018 with resounding approval. Fiorella's Jack Stack BBQ sent the meat securely packaged so it arrived fresh and ready to warm. I would endorse any of the gift packages for any location.
Best BBQ
Larry wrote on Feb 17, 2017:
I have been to the Kansas City Area three different times now. Two of those times I have indulged in your famous BBQ at 2 separate locations. Yumm. My son which lives Outside Overland Park makes sure I get the Pitmaster package as a Christmas gift. Wow does he Know his Dad. Thank you to Josh and Fiorella's Jack Stack Barbecue for a tasty holiday season in Ohio
A Gift You'll be Proud to Give
Bruce wrote on Dec 10, 2016:
I have had Jack Stack delivered as Christmas gifts the past ten years and it has gotten rave reviews every time. The quality is outstanding, it arrives freshly on time, and the portions are big enough to share with friends. If you want to send a gift that your friends and family remember and appreciate, you can't go wrong here! I live in Kansas City and if you're ever in town, make sure you set aside one night for dinner in person at Jack Stack. The best!!!
Simply the best BBQ. Fantastic!!
Louis wrote on Sep 2, 2016:
Had Jack Stacks when I was in KC and it was awesome. Got home and ordered within days. Just as good at home as it is in the restaurant. Hands down the best BBQ!!
OMG it was awesome!
Doug Hall wrote on Feb 23, 2015:
Hey everyone! I had Jack Stack's BBQ in KC a couple years ago while attending a soccer tourney. I was craving it, and finally order it online. I followed the directions for reheating to a ""T"", and let me tell you, it was just as if I was sitting in KC all over again! OMG, I've raved about it to my friends and family here in Cincinnati! I am still shocked at how good it tasted!! It tasted SO FRESH! I ordered this sampler because I really couldn't recall what I liked the most, after eating this we decided more burnt ends and the baby back ribs were the way to go. So I'm placing my 2nd order tonight! I LOVE Jack Stacks!
OMG Delicious!
Doug H wrote on Feb 7, 2015:
My first ever online order and I couldn't be happier! The quality of the food was amazing! I followed their directions on thawing and reheating, and EVERYTHING turned out great! I ordered an extra corn and was glad I did, it was all gone! Highly recommend!
Customers Who Ordered The Pit Master Also Enjoy...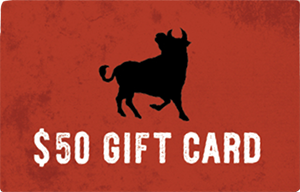 THE PERFECT GIFT FOR ANYONE!
Redeemable at the restaurants, online orders, and catering orders.