Successfully added The Poor Russ Combo to your cart
Our Head Pit Master - Tim Keegan, Recommends
Review Summary
(Based on 10 Reviews)
Overall Rating:4.9/5.0
Reviews
Great Housewarming Gift
Cathy wrote on Sep 5, 2021:
I bought this for my sister who moved from KC to FL. She loves Jack Stack BBQ so it was the perfect gift.
Perfect gift!
Jennifer wrote on Apr 12, 2021:
I have sent this combo for both my dads and brothers birthdays and it is the perfect gift! It is so delicious and a great assortment of items!
Poor Russ combo is excellent
Michael Crowe, Sr. wrote on Feb 28, 2021:
I sent this to a good friend whose mother in law passed away. He is not from KC but he loved the food. Shipping was prompt.
Always good
Yvonne wrote on Feb 1, 2021:
When I visit Kansas City a couple times a year we always go to Jack Stack. The barbecue is always good but our favorites are the baked beans, cheesy corn and slaw.
The Perfect Gift
Valerie Anderson wrote on Jan 18, 2021:
I purchased this combo, added some cheesy corn and the 2-pack dessert and sent to my parents for their 50th anniversary. They deserved a nice dinner even during a pandemic! They absolutely flipped over it, sent me pics of the excellent packaging and enjoyed 2-3 meals out of it. Thanks, Jack Stack!!
Poor Russ Combo
Beth Schottman wrote on Dec 28, 2020:
This was a Christmas present for my mom since we could not be together. She said it was delicious, she especially loved the meat and beans. Everything arrived on time so it made for a delicious Christmas dinner.
Poor Russ Combko
Joyce Stephens wrote on Dec 20, 2020:
It was a gift but know it was great since we had had your products before.
Poor Russ Combo
Beth Schottman wrote on Jun 29, 2020:
This was a birthday present for my mom who lives in NH. We could not be with her to celebrate and she loves Jack Stack. Everything was excellent, delivers on time, packed great, and the food was delicious. She especially loves the beans. This meal made her 92nd birthday great !
Poor Russ combo
Pamela J Hahn wrote on Apr 19, 2020:
My son and his wife loved their meal from Jack Stack. We sent it to them for their Easter dinner. Thank you! It arrived on time, also!
Jack Stack (mix os meats) BBQ
Hector Rosas @Tito's wrote on Dec 29, 2012:
This was the BOMB! It was succulent and the JS sauce made the sandwich! PS.....the beans were out of this world. I also had some Gates BBQ sauce which I believe comes from KC also and I liked that also but Gates was spicier. U can't go wrong with Jack Stack's BBQ and I'm a caterer myself. No, they haven't paid me to give a great review....enjoy your BBQ!
Customers Who Ordered The Poor Russ Combo Also Enjoy...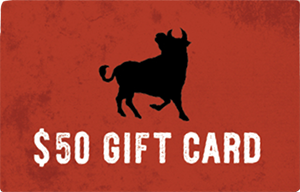 THE PERFECT GIFT FOR ANYONE!
Redeemable at the restaurants, online orders, and catering orders.