Successfully added The Southern Jack to your cart
Our Head Pit Master - Tim Keegan, Recommends
Review Summary
(Based on 8 Reviews)
Overall Rating:4.8/5.0
Reviews
Perfect Father's Day gift
Kelly W wrote on Jun 27, 2020:
I got this for my Dad for Father's Day. He absolutely loved everything!!
Good Pull Pork For Our Holiday Meal
Anne E Burns wrote on Dec 23, 2019:
Our family always orders the pulled pork from Jack Stack BBQ for our holiday meal and have always enjoyed it!
Perfect For Father's Day
wrote on Oct 25, 2010:
I purchased this for Dad for his day. He was thrilled. It has everything you need. The cheesy corn bake is the best!
Best Bbq In Kc
wrote on Oct 24, 2010:
I order adding sausage and rub.
Bbq Basics
Maggie Onkey wrote on Oct 23, 2010:
Bbq Basic
wrote on Oct 23, 2010:
East Coast Favorite
Barbara Palmer wrote on Oct 22, 2010:
Pulled pork was delicious; the beans are the best; the cheesy corn was wonderful; the best for last the BBQ Sauce Original is the best BBQ sauce our family has tried. It's not BBQ without your sauce. The original flavor is the very best!
A Great Gift!
Alison Meshinski wrote on Oct 22, 2010:
My Father Thought It Was A Fantastic Father's Day Gift! He Enjoyed It With My Mother And My Grandmother. They Loved The Rolls!
Customers Who Ordered The Southern Jack Also Enjoy...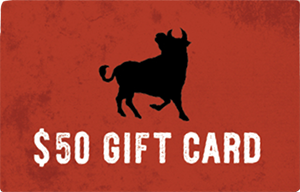 THE PERFECT GIFT FOR ANYONE!
Redeemable at the restaurants, online orders, and catering orders.