Successfully added Today Show Special to your cart
Our Head Pit Master - Tim Keegan, Recommends
Review Summary
(Based on 23 Reviews)
Overall Rating:4.9/5.0
Reviews
Perfection!
Gale wrote on May 31, 2021:
Jack Stack is my favorite special meal. I love BBQ and Kansas City is the best. It arrived on time, still frozen.
Excellent ribs
nancy martin wrote on May 2, 2021:
This was our first time ordering ribs, since we normally order the Crown Prime Beef Ribs. Ribs were A+ --just fantastic---meaty, flavorful and we will definitely be ordering more.
The Best!!!
Pam wrote on Apr 25, 2021:
I sent this item to several friends and family. They all love it and want more!!!! Jack Stack is the best!!!
Ribs
Virginia king wrote on Mar 21, 2021:
FABULOUS-glad I added sausage
Today Show Special
Cheryl Smith wrote on Mar 8, 2021:
The ribs, beans and sauce are awesome and easy. Thank you.
Super Bowl bet
Jim Edson wrote on Feb 22, 2021:
My Tampa friend was very impressed with his winnings! I'm sure we will be dining on Jackstack on his next trip to KC. He's buying!
Today Show Special
Gail Sieckman wrote on Feb 15, 2021:
I ordered this for a friend after I received the gift of an order from JackStack. He liked the meat, said it was not as hot a sauce as he is used to so he could taste more flavor subtleties in the dish. He said (and I concur) that the beans were sensational!
Taste of Home
Jocelyn wrote on Jan 4, 2021:
We sent this to sister who now lives in Oregon. She said it arrived in perfect condition and was like a Taste of Home.
Timely
Zembrzuski wrote on Jan 3, 2021:
Delivered on time!
Best Christmas Eve dinner ever!
AndiePanda wrote on Dec 28, 2020:
We purchased this after seeing it on the Today Show on TV as a special. We had heard about Kansas City barbecue, but this definitely sets the standard by which all others should be compared. We sent it to our daughters family and they said it was the best barbecued ribs they had ever had. The sides were also very good and they love the carrot cake. Thank you Jack Stack for making this holiday in such a crazy year so special
Delicious BBQ
Lachelle Moore wrote on Jun 14, 2020:
Sent to my sister in Austin Texas, she was so happy to get some KC BBQ. She said it was delicious and reminded her of Kansas City.
Nothing but pleased
Craig Isaacson wrote on May 6, 2020:
To celebrate my "virtual" birthday party, I had Jack Stack BBQ shipped to my home in North Carolina and to my daughters in Tampa, Florida. Deliveries on-time and food brought back memories of our days in America's BBQ capital--Kansas City. What a treat! We were not disappointed.
Happy
MJ wrote on Apr 27, 2020:
Fantastic! I moved out of the KC area a few years ago. Friends sent me gifts a couple times...best friends ever! After that I order some for myself. I live in California now and it's great getting yummy BBQ from KC, especially right now. The shipments have all arrived cold and are delicious. I highly recommend!
Fabulous BBQ
Roger Hinton wrote on Apr 12, 2020:
The shipping was fast and well packaged. The pork spare ribs were "fall off the bone" delicious and the pit beans made a very good complement. My only regret was that I didn't order more. Nice tie over until I make it back to KC.
Ribs and beans
Henry Arst wrote on Aug 17, 2019:
My friends LOVED the food and raved about it.
Royals loss
Diane wrote on Apr 27, 2016:
My cousins live in California and I lost a bet to them. Thank you, Royals! Now I have to send 2 sets of KC bbq. We enjoy our trips to Jack Stacks and thought it would be a good representation. I know they will enjoy them......
the best
norman bailey wrote on Jun 25, 2012:
i love bbq and this is the best i have ever eaten.i wish it was a little cheaper.the best costs.
Good BBQ
Mary Ann wrote on Jun 7, 2012:
I had this sent to my parents in Florida, I didn't get to taste it of course (but if I did I would of given this a 5 star) but they REALLY liked it. Going to send them some for Father's Day
Today Show Special Goes To Greensboro, Nc
Deborah Kobe wrote on Oct 27, 2010:
The recipient of this package (Greensboro, NC) was pleased with the condition upon arrival and flavor. His children loved playing with the dry ice. For the price, I would like to see one more side added.
Great Gift Idea!
Hanan Levin wrote on Oct 23, 2010:
Today Show Special
Ira Hart wrote on Oct 22, 2010:
Today Show Special
David Morse wrote on Oct 22, 2010:
Just like homemade. Very meaty/flavorable from the first bite without effort. Just heat and eat!
Today Show Special
Susan G wrote on Oct 22, 2010:
Our friends in New York hosted us at their house for a long weekend this summer, as a thank you gift we sent them the Today Special when we returned home. Next week, they called to say, thanks for the best dinner! It made us feel great!
Customers Who Ordered Today Show Special Also Enjoy...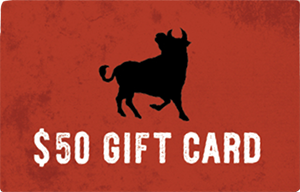 THE PERFECT GIFT FOR ANYONE!
Redeemable at the restaurants, online orders, and catering orders.